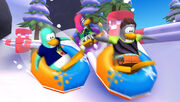 Tube Racing (also known as Tube Races) is a mini-game in Club Penguin Island located on Mt. Blizzard. It was released in the 1.3 update. It can be played on the top of Mt. Blizzard every couple of minutes, and players can win coins and Rookie XP.
Starting times
With the 1.10 update, the game starts letting players in at every even minute (i.e. 00, 02, 04, 06, etc.), and the race starts every odd minute (i.e. 01, 03, 05, 07, etc.).
Gameplay
Main article: Mt. Blizzard - Tracks
To play, players first have to wait one minute for a race to begin at either the Summit Plummet or Snow Stormer track, after that they can then interact to join the race and will be placed with their tube at the start line. A further minute will appear as a countdown until the race starts.
Upon starting, the platform moves down and players are thrown to the tracks. They must avoid the floating anvils that deduct 25 points while trying to touch flying circular checkerboard-patterned objects that add 25 points to their final score.
When finishing a race the leaderboard will appear displaying the time it took the player and any other players racing with them to reach the finish. Players are scored depending on their time and the objects they touched along the way.
Trivia
Prior to the 1.10.0 update, only members were able to play, and players could not win Rookie XP.
Non-members are able to play with a member tube only if they had the tube equipped while they were members.
Gallery
Community content is available under
CC-BY-SA
unless otherwise noted.