Underwater

Information
Where
Towards the right in the Hidden Lake
Puffle Rescue Underwater Level
Opened
January 21, 2010
March 15, 2010 (Permanent)
Closed
Still Open
Mini-games
None
Room ID
815
Tour Description

BLUB! This place is Underwater... Look at all the colorful fish and plants! And Treasure! This place sure is unusual...
The Underwater is a special members-only room located beside the Hidden Lake. It can only be accessed by following the Giant Squid's shadow in the game Puffle Rescue or by using a special link. After a penguin has followed the shadow, he or she enters this room and can then come back Moss Key whenever they like if they obtained the Moss Key Pin before it was removed. Although there are no games to play in this room, the game Puffle Rescue leads to it.
History
This room was first opened as a members only room during the Cave Expedition. There was a free Coral Reef Background attached to a rock. The background is no longer there and has been replaced by the Moss Key Pin, which is available in the exact same spot. The room reopened on March 15, 2010 and is only accessible by members.
Trivia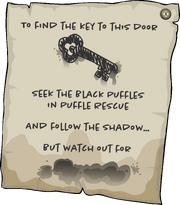 Today most players don't go to this place, since they are not a member, or they don't know how to obtain the Moss Key Pin in order to enter the room or they think there is nothing to do there.
When the mermaid suits were available, most people pretended to be mermaids, which made this room popular.
There was once a background here, and it was replaced by the Moss Key Pin which was removed for the Underwater Expedition along with a pearl and the fish. These were however brought back soon after.
If you throw a snowball, it turns into a bubble which pops upon landing in the target.
In the Holiday Party 2013, members with trains are able to bring non-members here, and if the non-member exits the train, he can stay on the room.

Note that if the non member exits the room, he can't come back unless another member brings him in a train again.
SWF