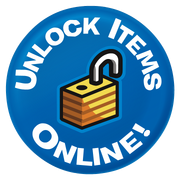 Unlock Items Online was a feature in Club Penguin that allowed penguins to obtain items by entering a code to Club Penguin's website.
This feature was added on October 24th, 2008 and removed on March 30, 2017, when the game was closed.
Features
Coin Codes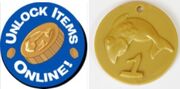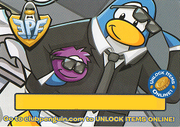 Players can receive Coin Codes (also known as Toy Codes) by purchasing Club Penguin merchandise such as extra Card Jitsu packs or books. The codes are printed on plastic coins or on a card. When players logged in to Club Penguin, they could click the icon in the upper right corner of the screen that said "Unlock Items Online", and there would be a place to enter your code. These codes were one use only.
Another type of codes were book codes, which only required knowledge of the book bought by players. In fact, they were not codes per se, but specific words from determined pages that players would only know if they had the book themselves. Players always received a Blue Book and some coins after entering their first book code, and all subsequent codes would just give coins. Similarly to coin codes, only one code could be entered per book.
After entering a code successfully, you would either receive a book item that would be added to your Inventory along with some coins or the player would be allowed to select up to two items from the Treasure Book.
The three Club Penguin video games also come with code cards in the packaging, and were also one use only. The card for Club Penguin: Elite Penguin Force gave an EPF Certificate, a Spy Phone and some coins. The card for Club Penguin: Elite Penguin Force: Herbert's Revenge gave an EPF Phone, a Puffle Whistle, which let players walk Flare, and some coins. The code for Club Penguin: Game Day! gave four different special backgrounds.
List of free codes
Main article: Free Items#Codes
Gallery
Names in other languages
| Language | Name |
| --- | --- |
| Portuguese | Destrave Itens Online |
| French | Débloque des Objets sur Internet |
| Spanish | Desbloquea tus Artículos Online |
| German | Gegenstände Online Freischalten |
| Russian | Открыть Предметы Онлайн |
SWF
See also