Arthur121999
[[

|center|120px]]
Tuio1212
Information
Penguin's Name
Tuio1212
Favorites
See Below
Member?
No(Formerly)
First Pin
Golden Feather Pin
Famous Penguins Met
All except Penguin Band, CeCe and Rocky
Date Joined Wiki
July 24, 2013
Date Joined Club Penguin
January 15, 2010
Admin?
No
2022 Updated Pin Tracker
Tracking...


No pin found!

Club Penguin has been discontinued.
Thank you everyone for playing and making it a great one!
For public use

•

In order to use, simply add

{{Penguin-Pal Pin Tracker}}

Customize 
-

HappyNewYear!

17:52, January 2, 2014 (UTC)
About my Penguin
Hi! My name is Arthur(aka Tuio1212, my penguin). I joined CP in the beggining of 2010, and i still remember this day like it was yesterday. My first friend was Mari1236. I couldn't add her because she had a full buddy list, but i remember that she was purple and had the Aurora Background. We met in the Arcade. There wasn't any special event at this time, and i've lost 4 pins, because i didn't found them. I didn't made too much things in the Cave Expedition, because i wasn't a member. My sister joined in the same day, but at night.
First year
In 2010, everything was new to me, and that was my favorite year. I enjoyed almost all the parties, and in February i've made a membership. I really liked the Puffle Party, and the Penguin Play Awards. The epic fail in 2010 in my opinion was the close of the PSA. I used to love that agency, the missions, the HQ, i miss it most! The PSA was very better than the EPF. That field-ops are cool at the beggining but they start to get boring later. Also, i miss the sports shop. But, i really liked the Earth Day 2010. The renovating of the Mine Shack. Sadly, they changed it again. The only famous penguin i met in 2010 was Rockhopper, in The Fair 2010. It was also nice the storm, the Celebration of Water and the Mountain Expedition. 2010 was a great year to me.
2011
I also enjoyed 2011. The Medieval Party of this year was better than the one from 2010. The Wilderness Expedition has been my favorite expedition. Adopting a free Brown Puffle and exploring CP's wilderness was great. Unfortunatelly, i've missed the ¨6th Year Birthday Party, and the hat. I din't met any famous penguin this year, but it was a good year.
2012
Things started to change quickly in 2012. Sponsored parties, Renovation, some parties have new designs. In most of them, the old ones were better, but Medieval Party 2012 was my favorite. I've got the Party Hat from the 7th Anniversary. Then i've discovered that Billybob was quiting Club Penguin. i got a little sad with that, because he was a great Manager. Also, i miss Happy77, and her blog posts.
2013
Lots of parties are sponsored this year. i will let the year finish to continue.
My favorite pages
Add links to your favorite pages on the wiki here!
Favorite page #2
Favorite page #3
Stamps
Events
Characters: 12/12
Party: 18/24
Activities: 29/35
Games
Aguagrabber: 17/20
Astro Barrier: 10/12
Card-Jitsu: 7/10
Card-Jitsu - Fire: 4/8
Card-Jitsu - Snow: 19/21
Card-Jitsu - Water: 4/8
Cart Surfer: 7/12
Catchin' Waves: 10/22
Ice Fishing: 10/10
Jet Pack Adventure: 17/18
Missions: 22/22
Pizzatron 3000: 7/10
Puffle Launch: 4/12
Puffle Rescue: 15/27
Pufflescape: 10/11
Smoothie Smash: 12/16
System Defender: 14/14
Thin Ice: 7/9
Treasure Hunt: 5/5
Video Games
Game Day: 8/14
Pins: 122/255
Famous Penguins met
My Puffles
Iceberry

Poofiee

Green Snow

Ice Spike

Lily

Iceblack

Ms Bubblegum

Snowball

I

r

i

s

P

r

i

s

m

a
Templates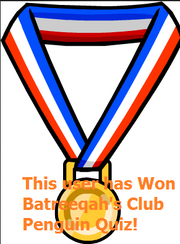 My Favorites
Userboxes
Replace this seciton with some userboxes so people know more about you! You may find some key infoboxes here.
My contributions