About me
Hello fellow peguins! My penguins name is Star 13 17 so if you see her around SAY HI. NOW. I am happy to be an editor! I am still new though but hope to be well know around this site!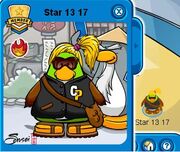 Famous Penguin sightings
Aunt Arctic:1
Sensi:1
Rockhopper:6
Fano:2
Lux1200:3
Tooly228:2
My favorites
Free item: Red and Black sailor shirt
Member item: Blue flower flip-flops
Place: Beacon
Party: Fall Fair 08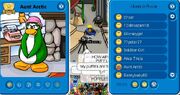 * Famous Penguins: Happy77 and Aunt Arctic
Puffle color: White
Colors: Peach and Yellow
Game: Puffle Roundup and Dance Contest
Servers: Crystal, Ice Palace, Arctic, Alpine
Backround: Twelth Fish Backround ( day and night)
Pin: 150th Newspaper Pin
My templates and awards
Community content is available under
CC-BY-SA
unless otherwise noted.