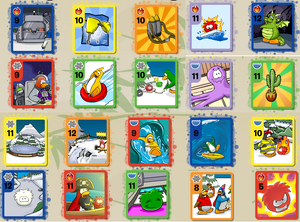 About me
I joined Club Penguin somewhere during the April Fools' Party 2009. I have missed a couple of pins and have been to all the parties starting from April 2009 all the way through the rest. I am a Fire Ninja, Water Ninja and a regular Ninja. I am an EPF agent and was a PSA agent. You can usually find me on Sleet, Alpine, Alaska, and maybe Beanie.
Stamps
Total Stamps: 270/306 Events Stamps 26/35 Characters Stamps 3/11 Party Stamps 23/24 Activities Stamps 26/27 Games Stamps 209/230 Jet Pack Adventure Stamps 17/18 Aqua Grabber Stamps 17/20 Astro Barrier Stamps 12/12 Catchin' Waves Stamps 21/22 Thin Ice Stamps 9/9 Puffle Rescue Stamps 23/27 Mission Stamps 22/22 Cart Surfer Stamps 11/12 Card-Jitsu Fire Stamps 8/8 Card-Jitsu Water Stamps 8/8 Card-Jitsu Stamps 10/10 System Defender Stamps 14/14 Puffle Launch Stamps 6/12 Ice Fishing Stamps 10/10 Pizzatron 3000 Stamps 5/10 Treasure Hunt Stamps 5/5 Pufflescape Stamps 11/11 Video Games Stamps 9/14 Game Day Stamps 9/14 112 Pins
About my Penguin
colspan="2" class="infobox-title infobox-big" style="background-color: Brown; color: white;" | BestBtd4Player
[[

|center|120px]]
colspan="2" class="infobox-title" style="background-color: Brown; color: white;" | Information
Penguin's Name
Lizzychick
Favorites
See Below
Member?
Yes
First Pin
Chocolate Bunny Pin
Famous Penguins Met
Rockhopper, Gary, and Cadence.
Date Joined Wiki
Unknown
Date Joined Club Penguin
somewhere around the April Fools' Party 2009
Admin?
No
My favorite pages
Famous Penguins I Met
My Favorite Party(s)
Puffle Party 2012 Medieval Party 2012 Probably Marvel Super Hero Takeover 2012 Music Jam 2011 Island Adventure Party 2011 All The Fall Fair's
Templates
Favorites
Ok, ok, ok. This is definatly the top. I LOVE CARD-JITSU!!!!! Second I completely LOVE parties!! I go on Sleet just to see the rare penguins, the other servers for the top!!!!!! You know that I love computers. I also like this wiki. Ok like on Make Your Mark: Ultimate Jam. Sometimes I go on a CPPS because I like those to. I might be offline for a day, but that doesn't really matter. That just means i'm having fun with something else I like as my favorite.