-Under Construction-
| | |
| --- | --- |
| en-3 | This user is able to contribute with an advanced level of English. |
BEWARE! Bommster is a Ninja!!!! Behold their awesomeness and TREMBLE!
I SAID TREMBLE!
My penguin
Name: Wiwe99
Password: You wish i said it
Age: 544 days old, as of December 25 2008.
Bans: Practically non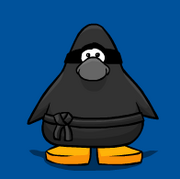 e, but some time ago some
friends
class
mates
enemies saw me enter my password at the computer lab and started banning my penguin. Everyone in the school knew it, until I emailed Club Penguin and changed my password. That kids are really annoying, and keep teasing me.
Schools over now and im gonna change school next year.
Membership: I am a member. I was long ago for 1 month. My membership expired and later i bought another one for 6 months.
Ninja: Yes
Agent: Yes
Tour Guide: Yes
Missions completed: All missions.

Servers: I go on in ANY server that shows up in the suggested list
Tracker


Right now i'm in: --
Friends
If you wanna be my friend, sign here.
Community content is available under
CC-BY-SA
unless otherwise noted.