Super Rarity TeddyTastic!--Britty909qwe 18:12, June 25, 2011 (UTC)
About Me
Hi! I am Britty909qwe.I have another account called 77ant77 she is my rarest penguin. I got her from my friend Annabellenib. If you see me on Club Penguin. Be sure to say hello I might add you as my buddy.I will add more pictures and imformation on here so be sure to take a look here. I wont wear the same clothing always though. I get most of my rare items from video games.I now have a Weekly Poll so feel free to vote.When I feel I am a good user and have experience I will run for Administrator. Leave messages and other stuff at my talk page.
Trivia
I got my Star T-Shirt from the Treasure Book and so of a lot of my other clothing
I have Super Exclusive items from the Treasure Book.
My rarest item which is not unlocked is the Chilly Trek Hat.
Poll
The Music Jam is here what do you like the most about it?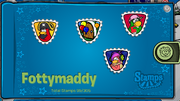 Templates
BEWARE! Britty909qwe is a Ninja!!!! Behold their awesomeness and TREMBLE!
I SAID TREMBLE!
My contributions
Community content is available under
CC-BY-SA
unless otherwise noted.