Meetable Character
This article is about someone who is meetable in Club Penguin.
CPPerapin/Rockhopper

Information
Aliases
Captain Rockhopper, RH
Species
Penguin
Gender
Male
Profession
Captain of The Migrator,
Pirate adventurer
Meetable Character?
Yes
First in-game appearance
October 13, 2006
(1st return to Club Penguin)
Signature
"
Did ye hear that? The winds be callin' me!
"
 

— Rockhopper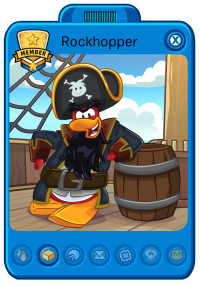 Rockhopper (also known as Captain Rockhopper or abbreviated as RH), is a friendly pirate and a sailor who regularly sails to and from Club Penguin Island with his ship, The Migrator, accompanied by his adventurous Red Puffle, Yarr.
His ship is docked in its usual spot at the Beach when he is at Club Penguin, mostly during special parties and events. He brings rare clothing and furniture items every time he visits to give away or sell to players, brought over from Rockhopper Island and other places. During his time at the island, he makes use of his time by meeting players in-game, telling them stories of his recent adventures and engaging in group activities. From meeting him, players can earn the Rockhopper stamp, as well as the ability to add him to your Buddy List, and receive an autographed background by clicking on the "Box Icon" on his Player Card.
Rockhopper has remained a well-known famous character, having the longest history time-wise yet maintaining a publicized relation to aspects of Club Penguin. His adventures out at sea, his well-kept secret of his island's location, his journal available for reading from the book shelf, his significance for introducing the Red Puffles to Club Penguin, and his current standing of having the most in-game sightings to date (hence his stamp being the only medium level character stamp) all have contributed to his fame, for example.
Development
Original idea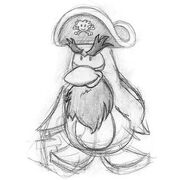 The idea of Rockhopper first came about when
Pirate
, a Club Penguin
moderator
, had first started working at Club Penguin. He suggested that Club Penguin should have a pirate, due to the team wanting to add something more exciting to the
Lighthouse
(which at the time was closed). Other staff members seemed to like this idea, and they soon began wondering what the pirate would look like. One of the first concepts for him was a parrot. During the process of figuring out what the pirate would look like,
Lance Priebe
(rsnail) walked by
Pirate
's desk, on which a figure of a pirate penguin he had sculpted stood. Lance then said "Why don't we make the pirate look like that?". The idea for Rockhopper's appearance was then finalized: he would be a red penguin with a black hat and a black beard.
[1]
Characteristics
Outfits
History
First appearance
Rockhopper first left Club Penguin Island on March 8, 2005, long before Club Penguin was officially formed. His reported last words before leaving were "Gangway, me mateys! The sea, she be callin' me".[2]
When he had finished building his ship, he started traveling and exploring outside of Club Penguin Island. During his adventure at sea, he found an island with "nary a soul" and a bounty of treasure, and named it Rockhopper Island. He later found Yarr out at sea, who was floating on a piece of wood alone.
A year after he began his adventure, he got lost and saw a faint light coming from a Lighthouse in the distance. Back then, little knew of him, and the sight of a ship coming to Club Penguin caused mystery. He then firstly came back to Club Penguin on October 13, 2006 and he was officially the first character in Club Penguin. He visited the Lighthouse, "won a few games of Sled Racing, had a bite to eat at the Pizza Parlor, and danced at the Night Club". When players met him, they could be gifted the Eyepatch from his Player Card.
Introducing Red Puffles to Club Penguin
On November 10, 2006, Rockhopper had planned his "biggest import" to bring the Red Puffles which were inhabiting Rockhopper Island to Club Penguin, as "a Christmas present to anyone who wants to adopt one" (including non-members). He took them all aboard the Migrator and turned its lower deck into "a comfortable cozy den for any puffles wantin' to join the adventure". Rockhopper mentioned in his journal the following about the Red Puffles during their trip:
| | | |
| --- | --- | --- |
| " | A band o' sprogs they be, but quick to listen and do as I say. Still, they like to get into me things now and again, but how can I hold against them? I'm pleased they be likin' the life of a pirate. | " |
On Rockhopper's arrival on December 8, 2006, he introduced the Red Puffles to Club Penguin.[3]


The storm
It became apparent to Rockhopper that a winter storm was brewing. On December 19, 2006, Rockhopper decided to leave early "to stay ahead of the weather", making him miss out on the Christmas Party 2006. On December 27, 2006, the storm had caught his ship. Rockhopper described the storm as something he had "ne'er witnessed", with "such woeful winds whippin' waves with such sway."
The storm eventually caused some damage. The sails were "tattered and torn", the deck's floor had been "ripped up", "and the frame took a bit of a beating". The ship was bearing the damages, but was moving a lot slower. Rockhopper landed the ship on Rockhopper Island to make some "makeshift repairs". He couldn't do much about the sails, leaving the ship with a lack of propulsion to be able to make a speedy return. Penguins that spotted Rockhopper's ship from the Beacon Telescope could see the damaged ship, and were wondering what caused the damage, and why it took a month longer for Rockhopper to return (Rockhopper had originally planned to return in 1 month).[4]
On February 9, 2007, Rockhopper arrived at Club Penguin, just in time for the Festival of Snow. Construction workerss helped repair Rockhopper's ship during the event.


Rockhopper and the Stowaway
Main article: Rockhopper and the Stowaway
As the Festival of Snow ended on February 16, 2007, a penguin named Bambadee snuck on Rockhopper's ship. Rockhopper later encountered him hiding behind "a rusty, oversized treasure chest". Bambadee explained himself, saying that he snuck onto his ship before Rockhopper left Club Penguin, only to leave quietly when Rockhopper was to land on an island. Rockhopper kept a stern look and told him that he had "half the mind" to take him back "without delay first thing in the morning".
On that night, "a wind whistled through the ship" and snuffed out his candle. He heard a howling noise and saw what appeared to be a white ghost saying, "If you go back now your ship is doomed. Carry on your adventure and find the buried treasure". It turned out that this "white ghost" was in fact Bambadee, when Rockhopper had spotted a colored bracelet on his flipper. Bambadee apologized, and said the he didn't "want to be around those penguins on Club Penguin anymore", having felt as an "outsider". Rockhopper responded saying that he is his friend, and convinced him to return to Club Penguin and have another go and making friends.
He sailed towards the island and made his turning point just away from the Dock before anyone could notice his sails on March 1, 2007, so that Bambadee could jump into the sea and swim his way there. Rockhopper also dropped a message in a bottle earlier into the sea, which showed contents on what would be in the book Rockhopper and the Stowaway, which he was in the process of writing at the time. It was sighted in the Beacon Telescope, and it eventually reached the Beach for penguins to read.
On Rockhopper's next visit to Club Penguin several weeks later, Rockhopper heard from Bambadee that he had made friends. Rockhopper then published a book about this account, which became available to read at the book shelf in the Book Room on March 9, 2007.


Opening the Ship Hold
Rockhopper returned to Club Penguin on April 27, 2007, just in time for the Pirate Party (the first Club Penguin party he had attended). He opened the Ship Hold to all penguins, the new location of the Rockhopper's Rare Items catalog. This marked the first time penguins apart from Bambadee could visit below deck of The Migrator. In return, penguins celebrated the Pirate Party island-wide. Rockhopper felt pleased that he opened the Ship Hold, and mentioned in The Penguin Times the following:
| | | |
| --- | --- | --- |
| " | Sink me! What a surprise! Argh, I could never expect a better bigger or more perfect welcome. Aye, seeing all me hearties dancin' the jig in the Hold during the party is a sight I'll never forget. | " |
The mysterious boxes and the timely leave
Rockhopper placed some boxes inside the Lighthouse on September 2007 and didn't give any hint or clue of what was inside them. However, some penguins accidentally broke into one of the boxes and discovered that Rockhopper was preparing for a massive carnival called the "Fall Fair 2007". Strangely, when the party started, Rockhopper wasn't there. Rockhopper explained that his motive to leave early was for new adventures. He left a message for the Club Penguin Times saying:
"
I know I'm leaving just when the festivities start, but the open sea be waitin' fer me. I be hearing all about it when I be returnin'. What grand tales ye will have.


"
 

— Rockhopper in issue #101 of the Club Penguin Times
Rockhopper later returned in November 2007, and had an extended stay with penguins on the island.


Save The Migrator Project
Main article: Save The Migrator Project
Voyages
Rockhopper Island
Cookie Island
Frozen Land
Swashbuckler Trading Post
Dinosaur Island
Shipwreck Island
Innocent Island
Polar Bear Island
Publications
Filmography
Rockhopper has appeared in some of the Club Penguin Animated Shorts series, with his most prominent role being in Captain Rockhopper vs. Mighty Squid.
Trivia
Gallery
Main article: Rockhopper/Gallery
Further reading
References
Community content is available under
CC-BY-SA
unless otherwise noted.