IM NOT MAKING MORE PARTIES ANYMORE BECAUSE THEY ARE EITHER INTERRUPTED BY SOMETHING IN REAL LIFE OR NO ONE COMES.
GO TO User:Childpengu1/Videos FOR WATCHING CLUBPENGUIN MUSIC VIDEOS AND "THE STINKY FAME" WITH ITS FIRST SONG: "I WANNA JUST DANCE"!
WANNA DOWNLOAD PUFFLE COLLAGES? GO TO http://bit.ly/bxr98e FOR DOWNLOADING PUFFLE COLLAGES MADE BY ME! ALSO DOWNLOAD THE ORANGE PUFFLE COLLAGE: http://bit.ly/bKhAaO!
Childpengu1's Pages

My Talk | Videos | Parties | The Childpengu1 Show | Super Bee Mini-Movie

I need support on this!

A Club Penguin Museum Request | The Club Penguin Wiki Convention NOT ANYMORE (CLICK TO SEE WHY)

Other links

My Blog | My Youtube Channel | My Twitter | My Shop

The Vandal Series Playlist | The Stinky Fame Series Playlist
About my Penguin
I joined Club Penguin in October 2007. I joined it few hours after my cousin (he doesn't logs in now). If I joined CP some days before I could have been on the 2nd Anniversary Party. My first party was the Halloween Party. My first pin is the UFO pin, which I love!!!
Absences in the game
I was not able to be in the 2008 Fall Fair party, as my computer was being repaired. Also in the CPIP, I wasnt able to log in as the same reason told. I was so sad because I couldn't have the Red Construction Hat nor be a puffle...
Childpengu1


My penguin
Information
Penguin's Name
Childpengu1
Favorites
IDK
Member?
Yes (Expires March 24)
First Pin
UFO pin
Famous Penguins Met
See "Facts"
Date Joined Wiki
February 2, 2009
Date Joined Club Penguin
Sometime in October 2007
Admin?
No
Facts
Childpengu1 has 700+ days and he hangs out at the server Chinook!
Childpengu1 also speaks Spanish! so if someone wants a translate or something.. call me! lol (seriously i speak spanish)
Also, i have seen Rockhopper (x7), Cadence(x2), Aunt Arctic(x1), Gary(x1), the Penguin Band(x2) and Sensei (x2)!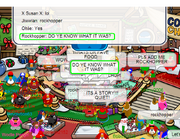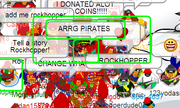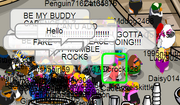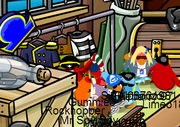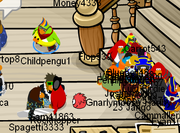 My Puffles
Here are the names of my puffles:
Blue: Fluffy
Red: Fire
Green: Greeny
Pink: Pinky
Purple: Dancer
Black: Fireball
Yellow: Jello
White: Smallie
Orange: Prankster!
My Life
Well, my life is just normal... I like to go to parties! Sometimes I get crazy and do random things (BTW, when I do that some people say im a freak, but I dont hear them...). The last random thing I did was with the classroom's board: I told one of my friends to draw things around me while I was in front of the board, so it looked wierd. He drew a puffle in my head, and a gun in my hand. Was kinda funny cuz the gun seemed like a candycane, and the puffle was wierd.
Phobias
Here are some of my phobias!
Emetophobia: Fear of vomiting.
Agoraphobia: Fear of places or events where escape is impossible or when help is unavailable.
Aichmophobia: Fear of sharp or pointed objects (as a needle or knife).
Algophobia: Fear of pain. (It is funny, "algo" in spanish means "something")
Necrophobia: Fear of death, the dead.
Photos from Real Life (only objects)
I'm not gonna post myself in photos! I will post things from me, but not people, pets nor other living thing.
Favorite books, videogames and anything more!
Favorite Movies: Get Smart, Cloudy with a Chance of Meatballs
Favorite Books: Captain Underpants series, His Dark Materials series
Favorite VideoGames: Left 4 Dead (2), Viva Pinata (In Spanish is "Piñata")
Favorite PC Games: Club Penguin, Poptropica, Starcraft, This is the only level series (ArmorGames).
Favorite Actors: Jack Black, Steve Martin, Steve Carell.
Favorite Actresses: Anne Hathaway, Brittany Murphy (Rest in Peace), Kate Hudson, AnnaSophia Robb (Actually, I have one friend that's the same as her, just with dark brown hair), Queen Latifah.
Awards
Snowflake Awards
Friends from Wiki
(If you want to be one plz write here)
--

Metalmanager

@

metalmanager.co.uk Talk to me! 11:55, 2 February 2009 (UTC)
Main Pages I created
Pages I want to create
None right now
Templates
Thankz for helping me, Sutec!!!!!
| | |
| --- | --- |
| | Childpengu1 has seen Cadence! Dance 'til you drop! |
Special:Editcount/Childpengu1

This user has made

Special:Editcount/Childpengu1

edits on this Wiki.
BEWARE! Childpengu1 is a Ninja!!!! Behold their awesomeness and TREMBLE!
I SAID TREMBLE!
| | |
| --- | --- |
| NAME | Childpengu1's penguin is called Childpengu1. |
I, Childpengu1, have 425 ú at Merbat's and Ratonbat's shop. I have requested 1 thing till now
| | |
| --- | --- |
| Island Lair Hunt Complete! | This user has completed Hal Homsar Solo's Mission 1, Island Lair Hunt! |
| | |
| --- | --- |
| | HUZZAH! Childpengu1 has seen the White Puffle in the wild! Amazing! |
Photos
I'll try to put every photo i found with Childpengu1!
Quotes
"
Have fun!
"
 

— Childpengu1
"
Just Dance!
"
 

— Childpengu1
Awards I've done
I've done some awards, and I give them to people I know that deserve that award.

CLICK ON THE PHOTOS FOR A BETTER VIEW
The End
Thanks for watching Childpengu1's User Page! Click here for your prize!
Childpengu1's Pages

My Talk | Videos | Parties | The Childpengu1 Show | Super Bee Mini-Movie

I need support on this!

A Club Penguin Museum Request | The Club Penguin Wiki Convention NOT ANYMORE (CLICK TO SEE WHY)

Other links

My Blog | My Youtube Channel | My Twitter | My Shop

The Vandal Series Playlist | The Stinky Fame Series Playlist