Secrets
I like two songs of One Direction
I like Shake it Up
I admit I play Skyblock in survival (minecraft related)
I only like survival in servers (minecraft releted)
Trivia
I am shy
I have been on chat for 13 hours one day
I joined in the holiday party 2012
I am not a member
I am shy when I join a wikia
I watch Les Miserables
I play minecraft in creative mode and ONLY in creative.
I always hated math
I never liked 1D (yeah right)
I don't go on chat much
I am a Christian
I tend to get nosebleed
I am afraid of being alone, but I wish to be alone sometimes
I never tried speaking Chinese even if I was (partly)
Poll:
Do you think I PM P-p too much when he's on?
Greetings!
Hello <insert name here>! I am a regular user on this wiki. I am a shy female, I have a little bit of stage fright. I have typos. (tons of typos) And I am a soft spoken girl.
About me
Hello! I'm Cupcakeme99. I am a new user in this wikia. And I am a metal flute player.
About my Penguin
My Penguin is pink. I'm Cupcakeme99. I am not a member.
My favorite pages
Add links to your favorite pages on the wiki here!
Favorite page #2
Favorite page #3
Things Liked and Disliked
Dislikes: candy, sneezing, and a dirty house Likes: vegetables, water, milk, lemonade, house cleaning and pink puffle
Templates
Best Friends
Artantic
Penguin-Pal
Sdgsgfs
Alexpink5
Arsenal
Cole (Rhysw2002)
Grand
Pucho
WikiaFrog
Super Miron (partly rival no offence)
More Coming Soon -- BabyCupcake99 16:01, January 15, 2013 (UTC)
Pictures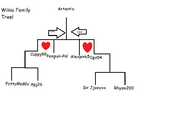 Community content is available under
CC-BY-SA
unless otherwise noted.