Meetable User
This article is about a user who is meetable in Club Penguin.
"I like pigs...."
Hi,This is My page, (Text by Shadow The Hedgehog) SO DON'TOUCH ANYTHING!'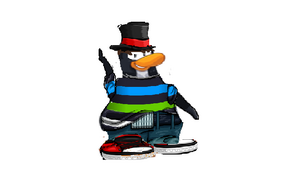 Deco Souza Ehmargad Donstahpminaw Moraes Rodrigues
368 Hello, my name is Deco Souza and i am a brazillian kid who likes technology.
About my Penguin
Next text is from my penguin:Why hello there! as you noticed my name is Deco Souza,and i am a penguin who wears these items:Striped Skater Shirt,Red Untied Sneakers,Cumberband Hat,Pendant Necklace and Delta Glasses.
Some facts
I like pizza
You wasted 3 seconds reading this
My Puffles are:White:Floci,Black:Flare,Pink:Rose,Red:Kick,Brown:Lock,Yellow:Pock,Green:Pick,Blue:Azzulado and Artoo Detoo,Orange:Dent,Abôbi,Purple:Dan,Rainbow:Arcoir,Rainbow(Thats her name),Dude,Funky and Sparks,Butter!:Budder
I herd i like Angry Birds
I like Butter
I like Dubstep and Rock
i like trains.....(Train passes by)
The fox says "Copy Club Penguin".THE QUESTION HAS BEEN ANSWERED
EVERYTIME IT'S ADVENTURE TIME!!!
How many users of this wiki are from Portugal?I wanna know!(Ora pois!)
Stuff about me here
| | |
| --- | --- |
| | Deceseze doesn't even like squids in Club Penguin! Sky would be happy. |
Community content is available under
CC-BY-SA
unless otherwise noted.