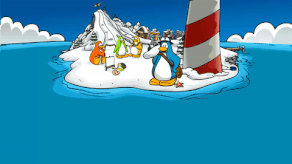 Andrew

Information
Penguin's Name
Djpenguin300
Favorites
Puffle Parties, April Fool's Parties, Fall Fair, Halloween Parties, Anniversary Parties, Holiday Parties(Except Merry Walrus Party), Coins for Change, Waddle On Party, Club Penguin, Club Penguin Island, Polo Field, Megg, SGT Sparkles, Penny Pebbles
Member?
Yes
First Pin
Padlock Pin
Famous Penguins Met
Rockhopper, Penguin Band, Aunt Arctic, PH, Gary, Rookie, Cadence, Sensei, Herbert, Sasquatch, Megg, Polo Field, Rsnail, Spike Hike (I might be lying about some of these :P)
Date Joined Wiki
March 21, 2015
Date Joined Club Penguin
January 16, 2009
Admin?
Pshhhh in my dreams! XD
Notes
It is my dream to be a Club Penguin Moderator
A Little Bit About Me.
Hello! I'm Djpenguin300. I love Club Penguin and have been playing for eight years. It's amazing CP has grown over the years. Ever since I joined CP I have wanted to become a moderator. I like looking at all the old swf files that remind me of when I was younger, good times....goooood times!
In Loving Memory Of The Original Djpenguin300. Waddle On Sweet Prince.
My Puffles.
I Have 15 Puffles on Club Penguin
- Bandit the Green Raccoon Puffle
- Boo the Ghost Puffle
- Buttercup the Orange Tabby Cat
- Freddy the White Puffle
- Goldy the Gold Puffle
- Jack Frost the Blue Crystal Puffle
- Lucky the Green Puffle
- Peter the Orange Puffle
- Rosco the Red Puffle
- Sammy the Blue Border Collie
- Sheldon the Brown Puffle
- Sierra the Pink Puffle
- Skittles the Rainbow Puffle
- Splatter the Yellow Puffle
- Taz the Blue Puffle,
I constently adopt more puffles but i'm just too lazy to add them here :p
I love ALL my Puffles!
If you want to meet my puffles, add me to your buddy list and visit my igloo!
I'm Such a Box Horder! :P