Hello, I am Eggy14368 (you can call me Eggy or Fruit Boot), a user on this wiki, the Club Penguin Wiki.
About me
About my Penguins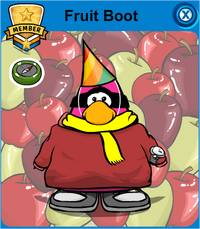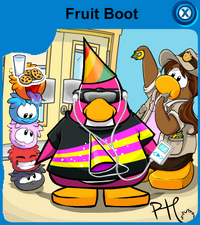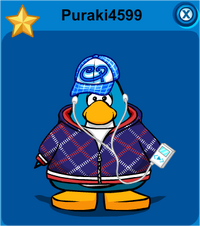 I joined Club Penguin in August 2009 with the penguin Alaskana1842, but my account was an Ultimate Safe Chat penguin. That one got deleted soon after I made a Standard Safe Chat penguin, Fruit Boot, in March 2010, My old penguin was Alaskana1842; my main penguin is Fruit Boot. I also have Puraki4599 as another penguin.
Alaskana1842
Created in August 2009 just after the Festival of Flight ended. Unable to attend the 4th Anniversary Party or the Winter Party. Was able to attend The Fair 2009 and the Holiday Party 2009. Was a member and an Ultimate Safe Chat penguin.
Fruit Boot
Member items
Member items that are worn very rarely
Custom Hoodie (Pink with stars)
Non-member items
Fruit Boot account created on March 3, 2010
*Member account
Puraki4599
Non-member items
Puraki4599 account created in early 2012
*Non-member account
My Edits
This is my 101st edit!
This is my 201st edit!
This is my 300th edit!
My favorite pages
My contributions
Templates and award pictures
{{EmbedMusic|512}} {{EmbedMusic|250}} 275