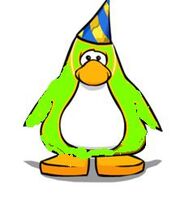 hello penguins im new to the club penguin wiki and i might be getting my own wiki called Elite Weevil Wiki.
This page is the 4,600 article on the wiki!
Thank you to all who have helped to make the wiki this huge!
my favourte pages is 7th Anniversary Hat (tha i made
The 7th Anniversary Party Hat is a head item item that will be available during the 7th Anniversary Party on Club Penguin. Like all the other party hats, when the party finishes, it will never return.
Trivia
Unlike the 6th Anniversary Hat, it is the shape of the original party hats.
Its colors might be gold and blue.
Although not confirmed, since it was added to the game files in October 2012, this is most likely the hat for the 7th Anniversary Party.
It will be the 8th party hat on Club Penguin.
This hat is different from Yearbook Quiz Cards as that hat has seven color lines while this one has only six. Also, the gold stripes on the quiz cards are skinnier than these.
This item can be permed already on CPYS, and there the Id is 49550.
Gallery
See also
SWF
Community content is available under
CC-BY-SA
unless otherwise noted.