Gourleyo


My penguin on July 11th 2010
Information
Penguin's Name
Slap Cheek (Seen as P86082351)
Favorites
Adventure Party 2009
Member?
Yes (Expires Mar. 29, 2011)
First Pin
Crown Pin
Famous Penguins Met
Sensei (1)

Cadence (1) Rockhopper (1)

Date Joined Wiki
October 11, 2009
Date Joined Club Penguin
April 07, 2009
Admin?
No
Hello, I am Gourleyo. I will be on here and will be trying to improve grammar like making tense right or correcting spelling errors and all the other things that are not making this wiki great. If you have any problems, visit my talk page. I just can't stand not helping out with Club Penguin related stuff!
About my penguin
I created my penguin in April 2009 and named it Slap Cheek (Not a rude meaning). Club Penguin counted my name ad being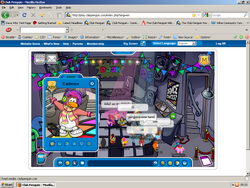 a rude and so others will see me as P86082351. I played as a non-member for the first month or so, but in May of that year became a member. I was still using a 1 month membership until August when I started using a 6 month membership. I then became a level 2 member and in February 2010 became a level 3 member! I also have another penguin which is known as Gorlio. He did have a one month once, but has not had it payed since then. There is a penguin I also have called Hayseeddixie (Based on the bands name). He has always been a non-member.
| | |
| --- | --- |
| Favorite item: Dragon Costume | Country: England |
| Favorite Colour: Yellow | Member: Yes! |
Penguins drawn by me
My templates