HI !
Hey lol this is my userpage. I love Club Penguin. I'm back to non-member life, awwww, im bummed.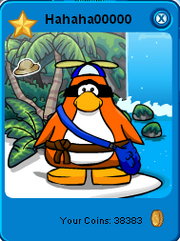 About Me
Ok here's a little something about myself.
Gender : Boy Penguin name : Hahaha00000
Penguin color : Orange
Outfit : Blue Propellor Cap, Ninja Mask, Messenger Bag, Brown Belt Favorite CP party : Festival of Flight 2009
Most appearences in CP : Town and Snow Forts
Most wanted item : Membership forever !
Favorite servers : Polar Bear, Outback and Snow Cap
Favorite famour penguin in Club Penguin : Cadence
Favorite card in Card Jitsu : The card when Gamma Gal and Shadow Guy attacks
Most wanted background : Old band background
Most wanted pin : UFO
My first pin : Present pin
My first free item : Christmas Hat
My first party : Christmas party
When I joined Club Penguin : December 2008
Favorite Background : Aqua Disco Background
Favorite Fall Fair Game(s) : Balloon Pop, Puffle Paddle, Feed a Puffle O'
Favorite game in Wii ( sometimes change ) : Super Mario Galaxy
Wordpress website : hahaha00000.wordpress.com
Animal I made up : Mary Chicken
City I'm from : Hong Kong
Important discovery in CP : All the parties always last one day late
My Band : Orange Band
Bands I joined : Another Orange Band, Please see picture gallery.
Miniclip account : Hahaha00000
Planet Cazmo account : Hahaha00000
Chobots account : hahaha00000 (small letter for H in beginning)

This is my wiki plz join if u want to !
http://supermariogalaxy.wikia.com/wiki/Super_Mario_Galaxy_Wiki

These are the wikis I joined.
Club Penguin Wiki......of course !
Spongebob Wiki
Un-CP Wiki
Puffle Wiki
Kid vs Kat Wiki
iCarly Wiki
Log Wiki (didn't edit before)
Super Mario Galaxy Wiki (I own it !)

My Puffles are :

Blue : Little Blue
Red : Firechip
Pink : Pink dude
Black : Blackster
Green Puffle 1 : Little green
Green Puffle 2 : Green door
Green Puffle 3 : Green green
Green Puffle 4 : Green dude
Purple : Purple Flurp
Yellow : Yellow Pufle ( i named it yellow pufle because i dont have enough spaces, so i have to type Puffle as Pufle )
White : Snow Puff ( I was thinking about cream puffs and, this name happened )
P.S. : I'm a Green Puffle Lover !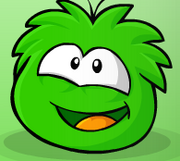 These are the famous people I've met before.
Rockhopper,two times
Gary, two times
Aunt Arctic, One time
Cadence, One time
Penguin Band all members, One time
Sensei, Two times
Harrypottter (as in Coco's other penguin), lots of times
Coco, one time
Stuartputt, one time
Papl ( a beta ), one time
Friends
Friends on this wiki
Add yourself if you wanna be my friend/think your already one of my friends!
Meet my friends
Meet my friends from my old school here.

Buddy List
Fun and Creativity
Poll Zone
This is the Funny Poll Zone, all polls are in different ways. Click here to enter.
Scavenger Hunt
This is my Scavenger Hunt, click to enter Click to enter, CLICK CLICK !
Hahaha HQ
Click into here to complete some fun missions
Hahaha Quiz
Do you have the skills to complete the Hahaha quiz ?
Picture Gallery and Quotes
For Party Pictures click here !! !

Below are my quotes :

"
Chip-a-rama !
"
 

— Hahaha00000
"
Fla-doodles !
"
 

— Hahaha00000
"
Cock-a-doodle-doo
"
 

— Hahaha00000
"
That pie is good...
"
 

— Me smelling a pie
Awards and userboxes
Award Gallery
Userbox Gallery
This user is currently playing a game called Super Mario Galaxy.
This user's favorite stage at the Music Jam 09 is the Orca Straw stage