This is HaveFaith's user page.
About me
I'm semi-obsessed with Club Penguin, and have a penguin called Aurabella, below is me ... and yes I'm English.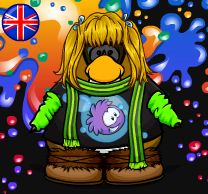 I HAVE A SIGNED PICTURE OF KAREN GILLAN WHO PLAYS AMY POND IN DOCTOR WHO!!!! - I dunno why I just said that...
Me in Club Penguin
I have a Penguin called Aurabella
I joined Club Penguin in May 08 just before the Medieval Party 08.
I stopped going on Club Penguin for ages after the Fall Fair 08 finished.
I went back on after seeing an advert on a website for the Puffle Party 09.
I became a member during the St. Patricks Day Party 09 because I really wanted to get into the Leprechaun House.
I usually go on server Snow Day, unless I want to play multi-player games
I am a Ninja, Fire Ninja, PSA Agent, EPF Agent and a Tour Guide.
I buy everything in catalogs except for boy wigs, but I have a couple because I used to buy them aswell.
I have not missed a party since the Puffle Party 09.
I have six Puffles; Esme, Carlisle, Edward, Emmett, Jasper and Rosalie and plan to get two more called Bella and Alice (The Cullens in Twilight).
I would give up on naming my Puffles after Twilight characters but it would be a bit of a waste of money.
If my Puffle were called something different it would be after Gavin and Stacy characters.
I previously stated I'm semi-obsessed with Club Penguin, I take that back I'm just obsessed (With this and a lot of other things).
I once tried to make a new penguin, and thought it hadn't worked and ended up with four new penguins.
They are; Fred2illyria, Purplcheezz, Faith Lehane and Purplcheezzz. (Bask in the Buffy/Angel refrences!)
They are all; Non-Member, Agents, Tour Guide and in possesion of two Puffles each (One red and one blue.)
I am babbling, feeling sick, bored and finally realisizing you don't care.
My Cullen Puffles ran away, so i bought two purple ones called Sadie Ella and Romana.
My Buddies
My contributions
My favorite pages
Awards
Stats
Aqua Grabber:
Astro Barrier:
Bean Counters:
5600 points - 12/11/09
Cart Surfing:
1370 points - 13/1/10
Catchin' Waves:
Dance Challenge:
116 coins - 5/2/10
Dance Contest:
7547 points
100% hits
158 combo
86 perfects - 6/2/10 and 13/2/10
DS Cart Surfing:
215 coins - 14/1/09
Rail Kahuna Silver Medal
Rail Kahuna Gold Medal
DS Ice Fishing:
120 coins - 30/12/09
Golden Chest Medal
Golden Mullet Medal
DS Jet Pack Adventure:
150 coins - 29/1/10
Rocket Ace Silver Medal
Rocket Ace Gold Medal
DJ3K:
Hydro Hopper:
Ice Fishing:
64 fish
Mullet Caught
Jet Pack Adventure:
Pizzatron 3000:
Puffle Round-Up:
Snowboarding:
221 coins - 25/12/09
King of the Mountain Silver Medal
King of the Mountain Gold Medal
Snow Trekking:
203 coins - 23/1/10
Snow Trekker Rocket Medal
Thin Ice:
Club Penguin Fanart
My Templates/Userboxes
| | |
| --- | --- |
| | The Club Penguin Wiki welcomes you! Please enjoy editing here! |
Community content is available under
CC-BY-SA
unless otherwise noted.