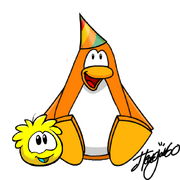 About my Penguin
Heartgold60 is a penguin who joined club penguin in 2010, (MONDAY, AUGUST 2nd 2010) and has been on club penguin for 3 years in total. They have level 5 membership and has 10 puffles. I have 169 stamps so far and 135 likes in my igloo! :) I really like squidzoid vs shadow guy and gamma gal and I usually draw club penguin comics alot. I usually waddle around servers sleet and Zipline. I also run my own blog based on club penguin If you ever want to add me on club penguin, feel free to send me a request. Also, please tell me if my mailbox is full if you try and send me a postcard. :)
cool facts
I was the penguin who drew the last comic in the club penguin times (issue 265) My yellow puffle ran away once but was returned by Club penguin team. I was a card jitsu snow beta tester. Golden (my yellow puffle) has been with me for 80% of my club penguin life. I have 2 club penguin accounts. I like populated servers. My penguin's first colour was orange. My first puffle was a blue one. My first puffle ran away within a week. My first pin was the compass pin. I have gotten 1000 coins from playing one game of Catchin' waves. I have PH stamp but I have never met her. I have Herbert's stamp but I have never met him. I first met cadence by accident. (she was running through the snowforts) I have never managed to get more than 10 penguins in my igloo. I have completed Club penguin: Game day! I have completed Club penguin Elite penguin force. I have completed Club penguin Herbert's revenge. I have every stamp in system defender exept Strategic Master. I have every stamp in Treasure Hunt. Rockhopper is my favourite mascot. I was known as "The friendly green penguin" in 2011. My favourite character in club penguin is Squidzoid. I wear the squidzoid suit most of the time. I have 2 squidzoid posters, a plush and figure. My favourite puffles are the yellow and brown puffles. I love dressing as a pirate, a wizard and a keytar player. I want to tip the iceberg. I dont mind pookies. I dont mind preps. (though they are annoying) I sometimes go into the french servers even though I dont know french. My first play was the underwater adventure.
My puffles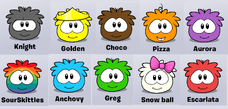 COOL FACT: Golden and Snow ball are my oldest puffles! I've had Golden since 2010 and Snow ball since July 2011!
I have 2 puffles begining with the letter A, 2 puffles begining with the letter G, 2 puffles beginning with the letter S! 4 of my puffles are named after food! And Escarlata is Spanish for Scarlet!
GIRLS: Golden, snow ball,Aurora and Escarlata BOYS: Knight,Sourskittles, Greg,Anchovy,Pizza and Choco.
My favorite pages
Userboxes