1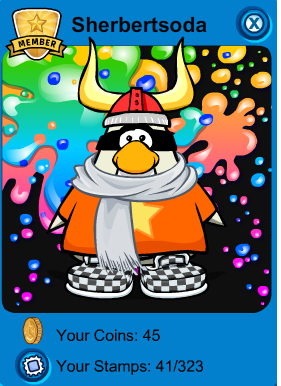 This page is not bad
This page is not bad, this page has a lot of information.
Barack Obama approves this.
About Me
Hello! My name is Hey You, Pikachu! also known as Pikachu. and I joined Club Penguin in December 2005.
I joined Club Penguin during Holiday Party 2005, using a penguin under the name of 'Ab900'.
I have created many accounts since 2005, such as Blublu958, Shinycandyx, Sodasquirt, Sherbertsoda, Cloverpoppop, Golden Kirby, Cold Coconut, and Tsukirino.
I joined the Club Penguin Wiki on June 16th, 2013.
About My Penguin
I have many penguins, but my favorite is Sherbertsoda.
Sherbertsoda is over a year old.
Sherbertsoda was registered in March 2012.
Sherbertsoda has had a total of 9 months of membership.
Sherbertsoda has one of each Puffle color.
Sherbertsoda is an EPF Agent.
My Favorite Pages
Templates
My Contributions
Community content is available under
CC-BY-SA
unless otherwise noted.