10
2020 Updated Pin Tracker
Tracking...


No pin found!

Club Penguin has been discontinued.
Thank you everyone for playing and making it a great one!
For public use

•

In order to use, simply add

{{Penguin-Pal Pin Tracker}}

Customize 
About Jack 55588!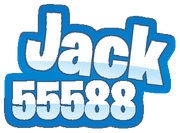 Hey guys. Just a heads up now. I won't be active on the wiki anymore, and barely active on Club Penguin. I've got to an age in my life where I just don't want to spend my free time on Club Penguin. The only real time I'll be active on Club Penguin is if I have big spare time and I mean big. I'll also be online when a party is running. But from me that's about it.
Goodbye Club Penguin Wiki, it was a great time being here.
December 24, 2012 - November 11, 2014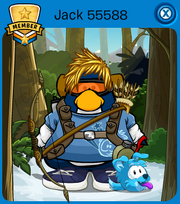 (note: The order of the hats are in a chronological order)
Total: 8/13 Party Hats
My Wiki Friends!
My Penguin Of The Day/Week Story!
So then, here's the story on how I became POTD/POTW. All I did was make a first person story based off Card-Jitsu Snow. About 4 days later (Thursday 23rd May 2013) Card-Jitsu Snow wasn't working for me, so I decided to look for some news on the Blog. When I got there I saw 'Penguin of the Day: Jack 55588', and I was like ZONKS! Anyway, if you think I just edited a post and posted it on my page here's the proof: http://www.clubpenguin.com/blog/2013/05/penguin-day-jack-55588
Jack's Q&A!
Q1. What is your penguin's name?
A. My IGN for Club Penguin is Jack 55588. When hanging out with me you can call me Jack though, :D
Q2. What server do you go on?
A. Usually Snow Plow, or any server beginning with 'S'.
Q3. Are you friendly with others?
A. Well, you'd have to ask someone I know about that, but I think I am. :)
Q4. What is your favourite party?
A. It'd have to be Operation: Blackout and the other EPF In-Game Missions.
Q5. What is the name of your favourite YouTuber that you've met on CP?
A. I have 2. Thinknoodles and Graser10!
Q6. Are you an EPF Agent?
A. Err.. Let's just keep that a secret between you and me.
Q7. Who is your favourite mascot?
A.
My favourite mascot(s) would have to be the
Penguin Band
. They are the oldest mascots in
Club Penguin
and have such a good history! Their 2013 penguin re-design looks epic too!
My Gallery Of Best Memories!
Community content is available under
CC-BY-SA
unless otherwise noted.