Legodude2004

Information
Full Name
Jason Chase
Species
Penguin
Gender
Male
Position
Elite Penguin Force Agent, Former PSA Top Agent, Tour Guide, Fire Ninja, Pizza Parlor Worker, Super Hero, Coffee Shop Worker,
Appeared
N/A
Color
Brown (originally Black, and used to be Arctic White)
Clothes Items
Blue Propeller Cap, 3D Glasses, Red Letterman Jacket, Flare, MP3000, Green Bunny Slippers
Related To
None
Friends With
Jet Pack Guy, Gary the Gadget Guy, Darwin, Aunt Arctic/The Director, Rookie, Puffle Handler, Rockhopper, Yarr, Franky, Sensei, Cadence, Flare, You
Meetable Character?
Yes
Meetable User
This article is about a user who is meetable in Club Penguin.
Legodude2004 is a rare penguin, Tour Guide, and an Elite Penguin Force Agent. He joined in August of 2011, and soon became a Club Penguin enthusiast. He collected plushies, toys, and Club Penguin Trading Cards, meanwhile getting swag with the coin codes.
Role in the PSA
Ever since he was born, he always suspected something was up. He'd always see shady looking penguins with blue flip-phones looking shady and doing shady stuff. He decided to investigate. Lego set out on a journey to figure out what was happening. While doing his research, he stumbled into a weird place. It was a large room with grey walls, which forced him to take a test. He passed, and was taken to the
PSA
headquarters. An odd blue penguin, revealing himself to be
Gary
, welcomed him and tasked him with a mission. He needed to find
Aunt Arctic
's missing puffles. He eventually completed the task, with many thanks and rewards, and moved on to the next task. He did everything they wanted him to do, and eventually worked himself up to a high rank. In many of his missions, he worked with a
puffle
named
Flare
. When he became a leader, he received a whistle to call Flare in if he ever needed him. Later, the PSA was disbanded when
Herbert
planted popcorn bombs and blew up the HQ.
Involvement in the EPF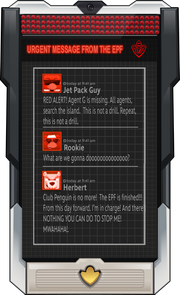 Lego is an honorary member of the
EPF
, since the PSA data was transferred to the EPF and Lego was a high ranking member. When the EPF needed help, he was always there for them.
Userboxes
Community content is available under
CC-BY-SA
unless otherwise noted.