My Penguin
263
lavaguy64
[[

|center|120px]]
Information
Penguin's Name
Jacksooby
Favorites
Bat costume
Member?
yes
First Pin
Super Hero Pin
Famous Penguins Met
Cadence, G, Rookie, and the Penguin band
Date Joined Wiki
February 21, 2014
Date Joined Club Penguin
May 2012
Admin?
Nope
My penguin's name is Jackscooby and I have been on club penguin for two years and has adopted every kind of puffle( Well not every kind there will be more types of puffles). My penguin uses standard chat and has met Candence, Rookie' The Penguin Band, and Gary. You will see my penguin on Zipline, Blizzard, And Ice berg. I hope this page is helpful to you Waddle On!
My favorite pages
Let's Talk About MIXELS
Hey everyone did you hear Cartoon Network is adding a new TV show that is called Mixels. Now you maybe asking what are Mixels? Mixels are colorful creatures in tribes of three who can combine to do much more! When two Mixels mix together it's a mix one Mixel is the body while the other gives it a power boost. When three Mixels mix it's a max. A Max Mixel is a giant Mixel who has all the powers of each Mixel in that tribe. Now here is another kind of creature in Mixels it is called a Nixel. Nixels can tear apart almost anything in there path include a Max Mixel! So now that you heard about Nixels you have been warned.
                           (Look Down)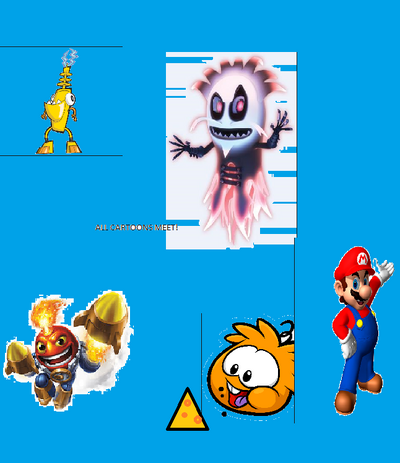 Community content is available under
CC-BY-SA
unless otherwise noted.