(10 intermediate revisions by one other user not shown)
Line 1:
Line 1:
−

{| cellspacing="0" width="100%" align="center" bgcolor="sky blue" style="border:4px solid skyblue; -moz-border-radius:10px; padding:1em;"

 
−

|- valign="top"

 
−

| width="100%" |

 
 

[[File:Hello_penguins!!.PNG|center|675px]]

 

[[File:Hello_penguins!!.PNG|center|675px]]

 
+

{{Mixer2301 Board}}

 

{{Mixer2301 Sub}}

 

{{Mixer2301 Sub}}

 

{{EmbedMusic|100}}

 

{{EmbedMusic|100}}

Line 11:
Line 9:
 

<div style="position: fixed; centre: 6px; left: 100px; padding: 1px; background: transparent; border: 0px solid Black;"><span style="color:'''Dark Black''';">Why are there so many boxes?</span>'''</div>

 

<div style="position: fixed; centre: 6px; left: 100px; padding: 1px; background: transparent; border: 0px solid Black;"><span style="color:'''Dark Black''';">Why are there so many boxes?</span>'''</div>

 

<div style="position: fixed; top: 0px; right: 0px; padding: 4px; background: white; border: 2px solid Black;"><span style="color:Orange;">'''No idea what to type here!</span>'''</div>

 

<div style="position: fixed; top: 0px; right: 0px; padding: 4px; background: white; border: 2px solid Black;"><span style="color:Orange;">'''No idea what to type here!</span>'''</div>

−

<div style="position: fixed; top: 100px; left: 1002px; padding: 0px; background: white; border: 600px transparent;"><span style="color:Black;">Thanks for viewing my page on {{CURRENTTIME}},{{CURRENTDAY}} , {{CURRENTMONTHNAME}} ,{{CURRENTYEAR}}!</span>'''</div>

+

<div style="position: fixed; top: 100px; left: 1002px; padding: 0px; background: white; border: 600px transparent;"><span style="color:Black;">Thanks for viewing my page on {{CURRENTTIME}},{{CURRENTDAY}}, {{CURRENTMONTHNAME}} {{CURRENTYEAR}}!</span>'''</div>

 
 
 
 
 

{{POTM}}

 

{{POTM}}

 
 
 
+

{{2013}} {{AprilFools2011}} {{EditedNoAprilFools}}

−

<table style="width:100%; border:2px solid pink; border-bottom:10px solid pink; -moz-border-radius:0 14px 7px 7px; -webkit-border-top-right-radius:14px;

 
−

-webkit-border-bottom-right-radius:10px; -webkit-border-bottom-left-radius:10px; margin-top:10px;" cellpadding=5><tr><td class="gradient" style="text-align:left;

 
−

font-size:110%; font-weight:bold; color:black; background-color:pink; -moz-border-radius:0 7px 0 0; -webkit-border-top-right-radius:7px;">Welcome to my user page!</td></tr> <br />

 
−

<tr valign=top><td style="font-size:85%; margin-left:10px;">You can find some good contents in my userpage, as the Sub-Page box above and the "Image Link" box below might help :) Have a nice day!</td></tr></table><mainpage-leftcolumn-start />

 
 
 
 
 
Line 28:
Line 23:
 

<big><big>

 

<big><big>

 

[[File:Mypic3.PNG|link=User:Mixer2301/Pranked!!|User:Mixer2301/SpecialPrize_+|200px]]</big></big>

 

[[File:Mypic3.PNG|link=User:Mixer2301/Pranked!!|User:Mixer2301/SpecialPrize_+|200px]]</big></big>

−

<big><big>Coming Soon!</big></big>

+

<big><big> </big></big>

 

|}

 

|}

 
 
Line 36:
Line 31:
 

[[File:Shameofbeinganm.png|thumb|left]]

 

[[File:Shameofbeinganm.png|thumb|left]]

 

[[File:233301leo.PNG|thumb|center]]

 

[[File:233301leo.PNG|thumb|center]]

 
+

[[File:Questionmarkpartyhat.PNG|70px|Lots of CP IQ!]]

−
 
 

[[File:flag mixer.gif]]

 

[[File:flag mixer.gif]]

 

[[File:Pengue4.PNG|thumb|left|The Crazy Cart Surfer!]]

 

[[File:Pengue4.PNG|thumb|left|The Crazy Cart Surfer!]]

 
+

[[File:Club Penguin landscape.JPG|center|500px]]
---
Latest revision as of 17:45, 14 January 2014

100
Welcome to my userpage!
I am Mixer2301!
Why are there so many boxes?
No idea what to type here!
Thanks for viewing my page on 14:36,18, January, 2021!
About Mixer2301...

Mixer2301 has once been the Penguin of the Month! Cheers for them!

To vote for this month's Penguin of the Month, follow the link!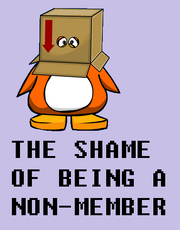 Community content is available under
CC-BY-SA
unless otherwise noted.