OrangeJerry
[[|center|120px]]
Information
Penguin's Name
OrangeJerry
Favorites
Everything that has to do with ClubPenguin
Member?
Yes
First Pin
Jellyfish Pin
Famous Penguins Met
Sensei,Gary,Cadence,Aunt Arctic,and Rockhopper
Date Joined Wiki
November 19, 2010
Date Joined Club Penguin
Setember 1, 2007
Admin?
No
About my Penguin
My penguin,OrangeJerry,has been on Club Penguin for three years. My most prized items are,the 2nd Year Party Hat,the Astro Barrier T-Shirt,the Geta Sandals,the Lighthouse Shirt,the Candy Necklace,the I Love My Puffle T-Shirt,the Sensei stamp,the Rockhopper stamp,the Gary stamp,and the Jellyfish Pin.I have 100 buddies,I have 16 puffles,I have 56 pins,I also have 127 stamps,and I have 6,067 coins(for now).I have also met,Sensei,Rockhopper(two times),Gary,Candence,and Aunt Arctic.I am a ninja,a Fire Ninja,a Water Ninja,a tour guide,and an EPF Agent.Remember if you find me make shure to check out my stamp book.If you meet me on Club Penguin I would be happy to be your buddy!
My Templates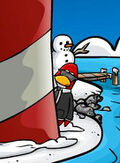 This user wants to get paid for being a Ninja!
I won a 2 second advantage 1 time(s) at a Brookelas challenge!
This user is a member of TEAM-P.
My Snowflake Awards
<gallery> Image:BronzeAward.png|Bronze: Make 100 edits. Great start! File:Elitist_award.png|I'm an Elitist! File:Treasureaward.PNG|I completed freeze's corner maze! .... I almost got lost! Image:NinjaAward.png|For being a Ninja. File:AgentAward.png|To earn this, be a good agent. File:WelcomeAward.png|To earn this, welcome new users regularly. File:StageAward.png|Be a good actor at the stage. File:Mspaintaward.png|To earn this, you must be one with the MS paint. Reveal the power of your digital pencil and paint bucket File:AwardAward.png|To earn this you must be useful at all times. File:Adminshadow.png|For being an Administrator on another wiki. File:Agent vandalism control team award.PNG|To earn this you have to be a member of the Agent Vandalism Control Team File:Movie award.PNG|To earn this award you have to make a good video of Club Penguin File:Reform.PNG|For being a vandal at first, then reforming. File:Fireninja Snowflake Award.png|For becoming a Fire Ninja File:Yin and Yang Award.png|For Being a ninja and an agent File:Quiz 2009 Award.PNG|Award for completing the 2009 Quiz File:Quiz award 1.jpg|I finished Seahorseruler's quiz! File:Betafriend.PNG|I met a beta. File:Top-Secret-Award.png|I found Upgrader's secret page! Image:TourGuideAward.png|I am a Tour Guide. TOURS HERE Image:OrangePuffleAward.png|I saw the Orange Puffle! Image:Oldblue penguin.PNG|I finished Seahorseruler's "Old Blue Mystery" mission! Image:Comeplete Capture Sanity mission.jpg|I finished Seahorseruler's "Capture Sanity" mission! Image:Pizzachase.png|I caught Hahahahahahaha's flying pizza! Image:Headphones.png|I helped Hahahahahahaha find Cadence's headphones! Image:Listmis4.png|The first award for Hahahahahahaha's third mission Image:Rainbowaward.png|The second award for Hahahahahahaha's third mission Image:Mission 1.png|I helped Dancing Penguin in one of Freezer57181's Missions! Image:Mission 2.png|I caight Herbert in Freezer57181's second Mission Image:Sonicmission1award.png|I am now a Sonic Agent! Image:Sonicmission2award.png|Sonic The Hedgehog's second mission award Image:Sonicmission3award.png|Sonic The Hedgehog's third mission award Image:Sonicmission4award.png|Sonic The Hedgehog's fourth mission award Image:Sonicmission5award.png|Sonic The Hedgehog's fifth mission award Image:Sonicbonusawardmission5.png|mmm...pizza... Image:Sonicmission6award.png|Sonic The Hedgehog's sixth mission award Image:Sonicmission7award.png|Sonic The Hedgehog's seventh mission award Image:Fancy award!!!.png|For finding Shanky6050's fancy page of secrecy File:Spongebob_Agent_Shop.png|I visited the Spongebob Agent Shop! File:Spongebob-squarepants.png|I visited the Sponge Shop! File:WOWPTM_Logo.jpg|I'm a fan of Wizards Of Waverly Place The Movie! File:WOWP_Logo.jpg|I'm a Wizards Of Waverly Place fan! File:FH_Alternate_Logo.png|I'm a fan of Fish Hooks! File:Sonicquizaward!!.png|I finished the Sonic Quiz!