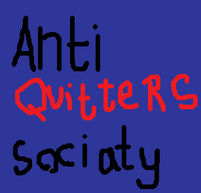 This is a society founded by Ratonbat. Here we discuss about users who may quit, and users who have recently quit. We do not block users!Our frase is:
Never quit, only keep it up buddy!!
If ur member, take this User Box:
Members
Other members! (if u want to be member sign here)
--Smiley555 00:16, 10 May 2009 (UTC)
*Without Comments...*--Childpengu1 Talk to me now!My Youtube! 20:25, 13 May 2009 (UTC)
Zooman98]]
Me! User: Gary the Gaget Dude User talk: Gary the Gaget Dude User blog: Gary the Gaget Dude 00:31, March 9, 2010 (UTC)
--Cg2916 Go, Red, Go! Talk to me!!!
22:25, 18 April 2009 (UTC)
If u wanna be member sign before cg2916
PenguinMan15
Who thinks Sharkbate really wanted to quit?
For: I think he was really mad after being hacked 2 times. I think he told the truth. Ratonbat TALK 2 ME! 22:38, 16 April 2009 (UTC)
Do you know how that makes me feel? I was GOING to quit forever but if I didn't come back, I wouldn't be unblocked on the Fanon. Like, that message right there made me feel like a no-good-coward! Yes, I want to stay, but not with people who will be rude and mean to me all day long. --$harkbate TALK TO THA SHARK BOI! 11:52, 18 April 2009 (UTC)
Sharky had a right to be mad. I don't blame him. I think he told the truth too. --Yorkielvr333 =D Talk t' th' Yorkay Porkay! 01:51, 30 April 2009 (UTC) Against: Yeah, I don't think he really would of quit: he likes this place too much -  WOMPUS - Talk to the Wompus
Neutral:
Beware
Becarful, there are users who maybe will quit, don´t bother them plz. Heres a list:
Bluehero
CatZip888
Gamgee
Hat Pop
Pingali Moi
Notices
Users who came back after saying they had quit
The a kong
Sharkbate
Ben 100022
Yorkielvr333CP
Ratonbat
Metalmanager
Community content is available under
CC-BY-SA
unless otherwise noted.