342
Page or Section under construction
This page or section is currently under maintenance or construction.
Meetable User
This article is about a user who is meetable in Club Penguin.
Regice 12014


Regice 12014
Information
Penguin's Name
Regice 12014
Favorites
See in Favorites Section
Member?
No
First Pin
Lucky Coin Pin
Famous Penguins Met
Rockhopper (1 time), Gary (3 times), Rookie (2 times)
Date Joined Wiki
November 5, 2012
Date Joined Club Penguin
December 1, 2008
Admin?
No
Welcome to the userpage of Regice 12014 <insert name here>. Feel free to look at my penguin's characteristics and acomplishments.
About my Penguin
My penguin's name is Regice 12014. My penguin is red, wearing the complete Snow Ninja suit and either the Water Hammer, Fire Nunchukus, or Snow Shuriken. On my playercard, I have the the Dojo Lantern Pin and the Gary's Halloween Giveaway 2012.
Usual Clothing Items
Non-member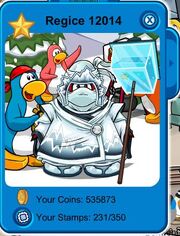 1st
2nd

Member
Favorites
Stamps
Events: 21/36
Characters: 23/12
Party: 18/24
Activites: 26/33
Games: 188/267
Video Games
Pins
Total: 235/350
Puffles
Userboxes