Rockhopper is a half easy penguin to see and get his background, I found him 3 times without even trying so hes half easy
Hes my Favourite penguin next to Gary and then its sensei
Heres Some tips on finding him:
Use Xat Chats, Don't Use Trackers Because One Person Updates Them By Hand Thats One Its A Whole Lot Different Searching With About 10-20 peeople.
He Must Be Easier To Find On His Next Visit Since The Club Penguin Team Relize That We Want To Meet Him So Much.
Hes Fatter Than Other Penguins.
He Might Be On 3 Bar Servers.

What He Looks Like
he might be on frozen or blizzard he barealy goes on club penguin so dont be mad about it
== Headline texth hes a penguin pirate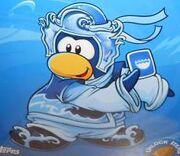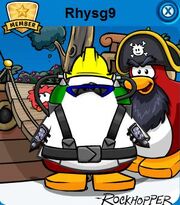 rockhopper always has his puffle yarr hes red
Community content is available under
CC-BY-SA
unless otherwise noted.