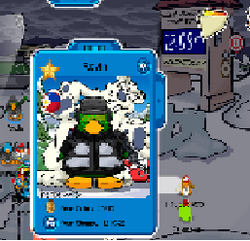 RovinCP
[[

|center|120px]]
I am a certified club penguin addict and a beta tester I am a EPF Resistance agent. Good meeting y`all! I was a PSA Agent, EPF Agent and was part of the EPF operation Herbert`s revenge. Was captured by herbert on operation blackout.
Information
Penguin's Name
Rovin
Favorites
Penguin, Club Penguin
Member?
Not yet
First Pin
Rockhopper`s key pin
Famous Penguins Met
Rockhopper, Cadence, Penguin Band, PH, Aunt Arctic, Rookie, Gary, Rocky, CeCe, Herbert, Sensei
Date Joined Wiki
November 22, 2012
Date Joined Club Penguin
March 22, 2007
Admin?
Not an admin

"Dont mess with the EPF resistance, Herbert P. Bear because we will teach you a leason you will never forget!" -Rovin
====My Twitter account====
About me
Lives in Club Penguin Island. works in EPF Resistance with Aunt Arctic or The Director, Agent G , Dot, Guy the Tactical Lead and Rookie the one who half sink the island. Against Herbert and Klutzy the crab.
I was captured by Herbert Yesterday and was freed by you Tnx to you the island is safe and You made Club Herbert once Club Penguin again also You finally knew AA is the director! :D Enjoy the Herbert free island now! Play Club penguin now! Enjoy the new and improved rooms on club penguin (will be realesed after December 4, 2012).
Join Chat!
Don't Share your Password!
Poll
Track That Pin!
2022 Updated Pin Tracker
Tracking...


No pin found!

Club Penguin has been discontinued.
Thank you everyone for playing and making it a great one!
For public use

•

In order to use, simply add

{{Penguin-Pal Pin Tracker}}

Customize 
My Templates
| | |
| --- | --- |
| | I completed the Flex217 Quiz |
5
Favorate pages
http://clubpenguin.wikia.com/wiki/Klutzy http://clubpenguin.wikia.com/wiki/The_Director_of_The_EPF http://clubpenguin.wikia.com/wiki/Aunt_Arctic