Wow my own page.Anyway i'm Sdas01 Thats also my Cp name. Im best friends with the amazing Kdude123.Im also friends with him in real life. Im normally on Husky. One more thing. If you see me,Kdude or Adityakatke REmember to say hi.Thats about it
About me
I am a penguin who has settled on this island for a fairly long time. On my island which is infested with Silver puffles, I was known to be sailing the seven seas. I was on my way to Club penguin to give away silver puffles, and take something home as a souvenir but my trusted ship, Blackhawk crashed into the same iceberg that sunk the migratory. Me and my puffle Dragon had to abandon the ship. Luckily some penguins helped me. They said welcome to club penguin. I had made it. Now I sometimes sail back to my island on a new improved ship called the CP Magic. I once played a game with Rockhopper called ice dodging. We have to doge icebergs. Pity one iceberg was to fast and he crashed. I am now at Gallapogos Univesity studying mythology. I am going to be a Penguin Mythologist. I was born in Artic Circle as a Royal Penguin. My hairstyle was one of a kind. The Crown. When i came to Club Penguin, Me and some other hairstylist decided to make my hairstyle open to the public. Thus it becam the firestriker.
CP Jobs
Pizza Parlor Head Waiter
Pizza Parlor owner
Pizza Parlor Manager
Coffee Shop Head Waiter
Coffee Shop Owner
Coffee Shop Manager
Flare Flinger operator
Save the Migrator Worker
Migrator cleaner
Founder and Violinist of the CP magics
Spy
Tour Guide
Secret Agent
Light house Operator
Telescope Engineer
Jet pack Tester
CP Archeologist
CP technician
CP Explorer
CP Superhero
Batguin Of the Cp justice league
Gift shop Cashier
Gift shop Manager
Gift Shop Owner
Gift shop Shopper
Gift shop Advertiser
Sports shop Cashier
Sports shop Manager
Sports Shop Owner
Sports shop Shopper
Sports shop Advertiser
Sled racer
Reporter
Leader of CPW
Security guard
Puffle Lover
Puffle baby sitter
Puffle catcher
Radical Surfer
Surfing Judge
Sanitation Engineer
Puffle owner
Cp myth buster
CP Wikia editor
Rock hopper Tracker
Actor
Director
Special Effects specialist
Dojo Decorator
Party Decorator
Party ideator
Snowball press typer
Water balloon thrower
Paintball shootout specialist
Igloo rater
Igloo editor
Igloo Builder
CPIP tester
Movie producer
Song Writer
Pen-Chi's trainee (ninja)
Chef
Musician
Painter
Vending machine Operator
Cp police officer
G's special assistant
Aunt Arctic's Helper
Sailor
Aqua grabber Pilot
Find four and mancala Player
Life guard (Cove and pool)
Builder
CART Surfer
Ice fisher
Egg designer
Egg hider
Blacksmith
Bean counter
Hair Stylist
Lighthouse operator
Blacksmith
goldsmith
Wow so many jobs for one penguin. It's a wonder that I still have enough time to hang around. Meet me on servers Big Foot, Mammoth, Yeti, or Husky
Pins
Notes
Film Cp disaster episodes
Take milleanne out for pizza
Look for people shouting where Rock hopper is
My pass: ________
Ask barkjon to be Sound manager of the Cp Wikia Band
Ask if anyone wants to be on my CP news or Cp disaster videos then please ask
E-mail me at dassaswat@yahoo.com for a time and date
Remember never to hack or cheat
Friends
Kdude123-A cool friend in Cp and real life
Milleanne2-My Girlfriend in CP
Adityakatke-A friend like Kdude
Jakge-A friend i see everywhere
Yourdude-A friend who helps me with my vids
imakklo- coolest penguin ever!
Madpuppy36-Yourdude's Sister
Cool Heat24-My little brother
I have others but i don't have the time to do that
CP Magics
MY band. We still have openings so tell me if you want to join
Violinist-Me
Guitarist-Jakge
Pianist-Kdude123
DJ/Sound-Yourdude
singer-Madpuppy
Drummer-Adityakatke
Electric-Milleanne
maracas-????????
Song writer/varies-Cool Heat
dancer-super24daisy
Songs
Billybob looks at me
Gizmo Gadget
Guinbay
i'm just a puffle
Happy's world
Rsnail blast off
Welcome to my igloo
more yet to come
enemies
123uncl sm1-LEADER OF THE CPV
Deion-Said something that you don't want to know
Bluebeast123-Someone who is plainmean,Tracked him down only once
Puffles
Red:Dragon
I'm sdas's first puffle. I don't bragg about it although i'm the only puffle that he takes out to sea. I've been with him since before we even came to Clubpenguin. I really miss scarlet or the rare silver puffle as sdas calls him. I wonder where he is. Also my bed is a condo.Isn't that cool.
Black:Darkness
I love it when Sdas takes me to the halloween party's. I'm really jealous of dragon. He gets to go on adventures. Sdas only took me on his ship once. At least Me and dragon get to pick where we want our beds. I Have an igloo For my bed. Its so cool.
Green:shark
Hello. i love it when i get to go the St. Patricks day Party. So much green. My Bed is a tent and its outside.Isn't that cool. I'm the best puffle at hiding. i camoflauge with the grass.I'm the joker of the puffles. i like it when Sdas takes me to the dance club. i have made good friends with Dancealoon. i wonder why Sdas says he has no no name.
Yellow:eagle
i love painting and taking pictures. Ican't beleive that sdas gave my myown garden.theres corn, watermelons and a cooler.maybe that's why I don't have a super cool bed like the rest
Pink:Zoomer
I LOVE EXCERSIZING I EVEN HAVE MY OWN SCRATCH TOWER TO EXCERSIZE I LOVE CLIMBING UP MY BED WHICH IS A PUFFLE TREE I ALSO LIKE GOING TO THE SPORTS SHOP TO EXCERSIZE WHILE SDAS DOES HIS JOB I HELP SDAS IN AQUAGRABBER BY BLOWING BUBBLES I WISH I WAS HERE DURING THE SPORTS FESTIVAL SO MUCH WAYS TO EXCERSIZE.
Blue:Nightshroud
I guess the name tells my personalaty. i love creeping around in the darkness. My bed is a blue house. I have the corner of the house which is very dark. I like this spot even though i didn't get to choose it. I love sneaking up on people. I also like going swimming although i'm not much of a fan of surfing or wakeboarding.
Favorites
Color-Dark Blue
Game-Cart Surfer
Sport-Football
Clothing-Woodsman's hat
free Item-whistle
Job-Rescue squad
Furniture-Security Cam
Food-Fish(duh)
High scores
catchin waves-1354
Hydro hopper-2947
sled racing-20
aqua grabber-500
Astro Barrier-3565
Bean Counter-2324
burn out Bulbs-800
Cart surfer-1444
Find Four-10
Ice fishing-360
jet pack-608
My puffle-250
pizzatron-965
puffle round up-94
Candytron-647
Sled racing-20
Thin ice-2225
thinicetrobarrier-246
Treasure hunt-101
Favorites
Season-summer
Party-Rockhopper Party
Igloo-BAckyard Igloo
Study-Penguin Mythology
Pin-UFO pin
Floor-Dance Floor
Backround-This is me
Music-Folk Guitar
Penguin-G
Center-Plaza
Building-Dance Club
CPW
my army currently in war with the CPV. More info in my log(coming soon)
Myths
okay heres the deal. COnfirmed means that its true, plausible means maybe but highly unlikely, and busted means not true.
tipping the iceberg
busted. all the things you see on youtube about tipping the iceberg is not true. Aunt artic said herself that it is not true.
Ninja
plausible. there has been ninja clothes in the old catalogs before. When asked about it to a moderator they say that the only way to become a ninja is train under the ninja master pen chi.
Rockhopper island
plausible. in the future we might be able to go rockhopper island but not now. some say that if you get to level 100 in hydro hopper you get to rockhopper island.
rainbow puffles
busted. all the things on youtube is a hack or edit. you can't get a rainbow puffle
Orange Puffle
plausible.CUrrently we have no proof that they do or don't exist. Also a pink puffle turns into orange if put under light
sinking the boat in dock
busted. even if you had all the people in club penguin which you can't the boat still wouldn't sink
bambadee
busted. the only bambadee is in the books. many people have claimed to have seen bambadee but this is not true.
Comics
here are my top 5 favorite comics
G needs a holiday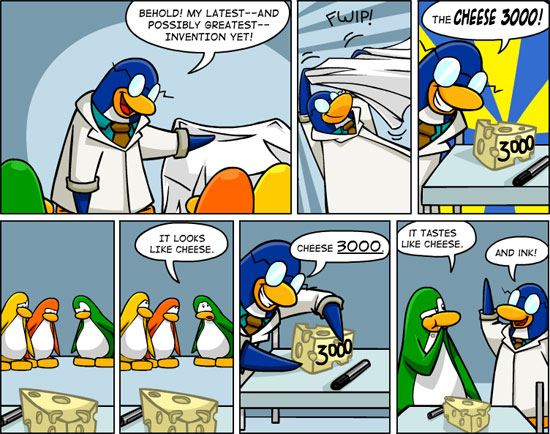 thats one simple invention
Anvil Counters

I wonder how much he's paid
Watch out for logs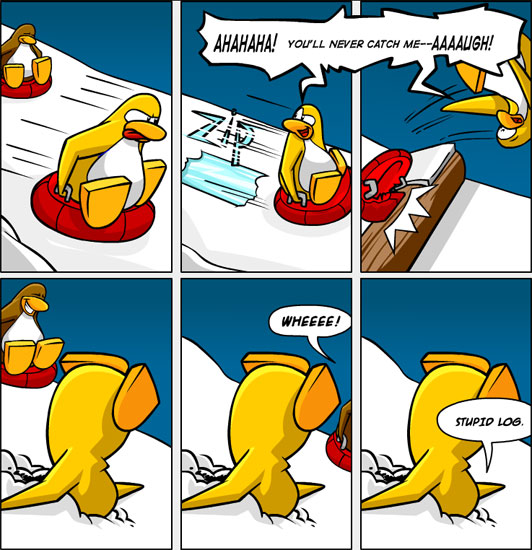 Speed is not always the answer
Stand Off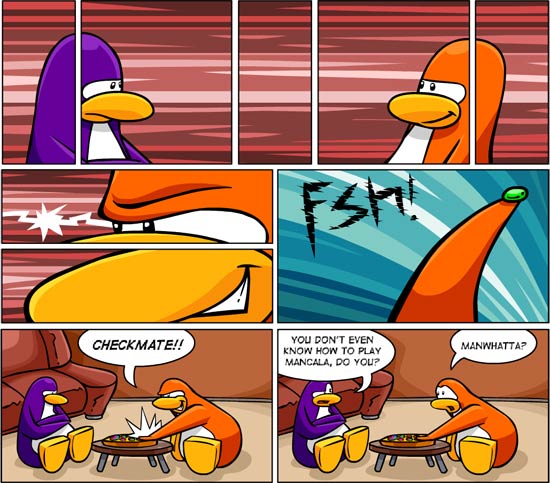 I wonder if he even knows what he's playing
Templates,Pictures,Other
Even though i am indian i was born here
| | |
| --- | --- |
| Mythbusters | This user is a mythbuster! Please visit this article for more info. |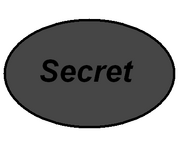 Hates
People copying my igloo or looks. why aren't they creative and make their own looks or igloo
People sending me a lot of postcards(Annoying)
people being mean or rude to new penguins
I am not afraid to report you to a mod so try not to get me angry
Catalog secrets
the only catolog that doesn't have a secret item is the Coustume trunk
Penguin style JUne 08

red viking helmet- on the first page click the right flower flip flop
Blue Viking Helmet-Get the red viking helmet four times
Divers helmet- click the divers helmet gauge(the weird machine on the diver's suit)
Crystal Staff- Fifth page click the queen's crown
woodsmans hat- on the 6th page click the knight's buckle
cheesy tie-on the 9th page click the overalls pocket
FUrniture Catalog

Palm Tree- 3rd page click the ficus plant
coffee shop tree-3rd page click the large house plant
Plush gray chair- 5th page click the vase
Inflatable dragon- 7th page click the pink castle
cake- 10th page click the kitchen sink
Love your pet catalog

Gray house- 2nd page click the brown flower by the green house
big wigs-7th page click the spikester
Gallery
I have met
G
Sensei
Candance
Billybob
Rsnail
Rockhopper
G billy
Franky
Stompin bob
Petey K
Sanity 1
Denno senshi
Director of PSA
Community content is available under
CC-BY-SA
unless otherwise noted.