I joined Club Penguin on exactly October 13th 2008 in the early parts of the afternoon, which was actually not long before the Halloween Party of 2008. I saw my siblings play this game and I wanted to play as well. The first pin that I ever collected was the 3rd anniversary cake. That pin to me is like a piece of history. Anyways, I really liked the Halloween Party. I met Gary The Gadget Guy in his laboratory and to believe it or not, it was in a bookshelf in the Book Room. You just needed to tap one of the books and BOOM! The door opened for you. I also got my favorite item, which is actually my profile photo. It took me until late November to get the hang of Club Penguin and today, I still enjoy waddling around and meeting new friends, especially on Wikia.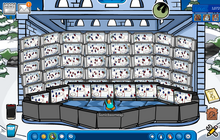 Community content is available under
CC-BY-SA
unless otherwise noted.