Tarantulakid96's Awesome CP Wiki Profile Page
Hey, and welcome to my page. I am Tarantulakid96, but am known as Ralph5 on Club Penguin. I will sometimes edit pages or look around, and follow up on interesting things.
About me
I'm 14, and I play Club Penguin and ROBLOX. I like to edit pages around here on the Wiki, mostly my favourite pages which you can see listed below. When I'm on Club Penguin, I usually hang with my friends, earn stamps, check out what's new, or if there's a party going on, I pretty much wander around doing everything.
About my Penguin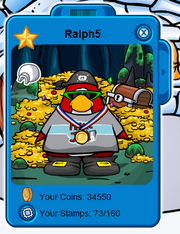 Well, my main username is Tarantulakid96, but I created my Club Penguin account way before that. My Club Penguin username is Ralph5. I have been around for quite a while, and my very first item was the Shamrock Hat at the St. Patricks party in... '06 I believe.
I am almost ALWAYS wearing the colour red, and you will never see me without it on unless im getting a certain stamp, in a colour party, or acting in a movie or short video. My usual outfit is the Puffle Bandana, Green Sunglasses, Music Jam T-Shirt, Gold Medal, and the Black Pirate Boots.
My favourite rooms are the Night Club, Dojo Courtyard, Ninja Hideout, Snow Forts, Mine, and the EPF Command Room.
There was a time between around halfway of 2009 to december 2009 that I stopped playing Club Penguin, so I missed a ton of stuff, including certain pins, free items, and the Halloween Party 2009. Bummer. =(
My Hobbies
I usually do stuff on the computer, whether it be doing stuff on the Wiki, drawing with flash, editing with flash, playing CP, edting my website, talking with friends, or just browsing around.
I also like to build things. I have made about 10 model cars, and my skills have improved since the very first. I also used to love playing with lego, but now I just make model cars. I also like to play on my PS3. You can find me on Raptr.com if you want to know what I'm up to. You can also find me on YouTube, Newgrounds, DeviantART, and Twitter. My username is Tarantulakid96 for all of them.
My favorite pages
My photos
My contributions
Community content is available under
CC-BY-SA
unless otherwise noted.