'Bout Meh
Extroverted (E) 75% Introverted (I) 25% Intuitive (N) 87.5% Sensing (S) 12.5% Feeling (F) 75% Thinking (T) 25% Perceiving (P) 50% Judging (J) 50% (LOL?!?!)
Your type is: ENFJ
ENFJ - "Persuader". Outstanding leader of groups. Can be aggressive at helping others to be the best that they can be. 2.5% of total population.
Raraahahahromaromamagagaoohlala


SQUARK.
Information
Penguin's Name
Pixelchix4
Favorites
ROCKDANCE THE GADGET HANDLER
Member?
Yes, no, it alternates.
First Pin
PIN.COM
Famous Penguins Met
PENG.COM
Date Joined Wiki
2010
Date Joined Club Penguin
2008
Admin?
Nah, man
AAAAH! RANDOMNESS! :O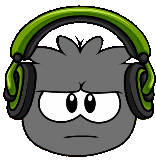 Talk to da puffle, dawg
This user has completed the 2009 Quiz.
You have a message from the EPF
A gallery of my penguin