The Contributions of Tigernose
---
Tigernose


My penguin.
Information
Penguin's Name
Tigernose
Favorites
Ye Olde Club Penguin
Member?
I was
First Pin
Shamrock Pin
Famous Penguins Met
Some Moderators
Date Joined Wiki
October 24 2008
Date Joined Club Penguin
February 24 2006
Admin?
Yep
| | |
| --- | --- |
| | This user is a truly excellent editor and is featured on the Wall of Fame! |
Hello, I am Tigernose, an administrator and bureaucrat of this wiki.
I have [[Special:Editcount/Tigernose|Special:Editcount/Tigernose]] edits all together! Click on the link to see how much are on mainspace or user talks, etc.
Notable changes
Here are some of my changes that have helped shape the wiki we see today!
User blog:Tigernose/Changing the wiki - Sums up some of my earliest changes and ideas. That long quote at the top of the blog is the message I sent to Sharkbate to change the wiki for the better, even before Joeyaa's famous blog post!
Forum:Bring back items! - Now we have more than 3000 articles because of that forum! We only used to have around 500 at that time.
Club Penguin Wiki:Item Creation Drive - This is what came out of the above. I really thank LarryRawr for making that list of items page that is still being used today!
Club Penguin Wiki:IRC channel - That revision of the page we know today is when I introduced our IRC channel to a lot of users.
Forum:Proposal for new main page - This forum failed unfairly, but I thought at that time the main page needed an overhaul. Zapwire and Joeyaa designed the draft, and Seahorse's version was the final product. It of course has been improved since then.
Forum:Removal/Change of Quality Scale - It's funny how a lot of people you ask here don't know about any Quality Scale. Me and Zapwire worked together to remove this redundancy.
Forum:ADMINSHIP PROJECT - This was very big project to reduce the amount of admins and change how and what admins are.
I also created the skin you see today, although I can't be bothered to find the forum for that. I have to thank Seahorseruler for making it even better, Joeyaa for the logo and Sharkbate for cleaning up the banner.
Even before the "metamorphosis" of this wiki, as Zapwire coined it, I wanted to change the wiki. Me and the great Metalmanager were having a conversation and suddenly a thought came to mind to start making this wiki better for the readers, because at that time, no one read the wiki. They often told people to come and edit - and not to read. The whole notion to make this website helpful to CP players was buried underneath a website full of people socialising and messing with the mainspace. What came to that was Project: Visitor, which believe it or not - stemmed most of the reforms we know today.
So that's a brief history of me! I've made more forums since then but I thought I'd show you the ones from July 2009.
My penguin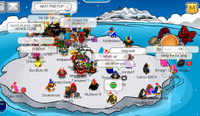 Name: Tigernose
Birth: 24th February 2006
Original colour: Light Blue
Current colour: Orange
Membership: 7 months of membership previously.
Secret Agent: Yes
Ninja: No
Elitist: No
Tour Guide: Yes
Instruments: Maracas
Random Facts
My favourite party of all-time in Club Penguin is the Sports Day in 2006. The scoreboards and face-paints were awesome!
My favourite day in Club Penguin are my anniversary days. I have had 11 already. 9 for each time I reach the 100 day mark and 2 for the 365 days (1 year) and 730 days (2 years) birthdays. When an anniversary happens I love to go crazy! I recently witnessed my own 1000 day old aniversary and had a big party!
My favourite item is usually my rarest until it gets replaced. DARN IT :P! If the Red Propellor Cap was not re-introduced it would be favorite, however my St. Patrick's Day hat is my rarest I think.
I started Club Penguin on the 24th February 2006.
I met Gizmo and added him!
Puffles
Here is info about my puffles!
Squishy
Squishy's point of view
I was Tigernose's first puffle. He cared for me loads, and I was his first priority! He has a lot of trouble now, feeding the other puffles, but still cares for me. I'm Fluffso and Div's best friend, but I like to hang out with Jammy occasioanlly.
My point of view
He was my first puffle! He's blue, and cute, and squishy! I haven't took him to many walks, but we still have a great time, even over 3 years!
Div
Div's point of view
Tiger is the best owner a puffle could ever have! I've known him for a long time, since he got me chatting a bit with Rockhopper! Being a red puffle, I'm always excited when Tiger takes me for walks! He's more busy now, but he still the best ever! I like Fluffso a lot (Don't tell anyone that!), but I'm good friends with Squishy as well.
My point of view
My second ever puffle, and a good one at that! A jumpy character he is, very excited after leaving Rockhopper Island. Div's the best name from all of them, I just think it sounds cute!
Jammy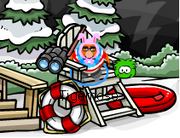 Jammy's point of view
Hey dudes! I'm Tigernose's first member puffle! I love surfing, and Tigernose takes me to the cove, to teach me some surfing! I don't know him as much as Squishy or Div, but an occasional journey with my owner, really lightens up our relationship! I think Tigernose is always chilled out, and he likes to dance - He's got a dance floor! I'm chill with Div, and Fluffso is really cool, so I like to hang out with her too.
My point of view
Jammy is a green, surfing cool puffle! I've known him for a month, but it's like we known eachother for ever! As you can see, Jammy likes surfing, so I like to show him around Club Penguin, and usually take him to the Cove. He likes it there, and doesn't mind water.
Fluffso
Fluffso point of view
Heya, guys! Tiger's a really cool owner. He likes playing games with me, and he takes me to a lot of walks! A lot of other penguins look at me and think I'm so cool! I think that's why Tiger likes me! I've known Tigernose for a month and like Jammy, we've done a lot things together. I'm Div's best friend!
My point of view
My newest puffle, but I take to a lot of walks. She likes the Dock the best, since she can show off to a lot of penguins!
I own a number
Yes, I own the number 280697. Look it up on the Million numbers database. 24Keyser stole it...
Awards & Edits
My Awards
Awards
Snowflake Awards