Welcome to the Club Penguin Wiki! This page is yours- yes, yours. You can do anything you would like with it: you can add new sections, remove sections, or anything you want! There are no rules on how you make your page look! Remove this message when you're done reading it. Have fun! Just remember to follow the userpage policy to avoid your page being locked!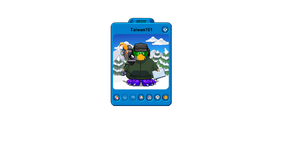 About me
I am...
1. A EPF agent
2.A black belter in Card Jitsu
3.A ninja in Card Jitsu
4.A EPF agent who has completed all the PSA missions and all the secret tasks within these PSA missions
6.A Director in the Hollywood party 2013
7.A non-member AND I'M PROUD OF IT!
8. A penguin that has collected all the dinosaur eggs at the prehistoric party
9.I have 105 stamps! (All of them non-member.)

This is the "About Me" section. Edit this and tell the community a little about yourself! Make sure whatever written in here complies with the Privacy Policy!
About my Penguin
I am an ethnic Han Taiwanese whose penguin is called Taiwan101 (active.) I also have another, older account called Yanglinwang (inactive.) I have two puffles called Lan Yang and Hung Yang.
My favorite pages
Add links to your favorite pages on the wiki here!
Favorite page #2
Favorite page #3
Userboxes
My contributions
Community content is available under
CC-BY-SA
unless otherwise noted.