This page is not bad
This page is not bad, this page has a lot of information.
Barack Obama approves this.
Verde Sal
Loading...
Verde Sal's Current Player Card
Information
Penguin's Name
Verde Sal
Favorites
Green Puffle, Ping Pong Paddle Pin, Lime Green, Pendant, Penguin Secret Agency
Member?
Yes
First Pin
Ping Pong Paddle Pin
Famous Penguins Met
Gary, Rockhopper, Cadence, Penguin Band, Rookie, Puffle Handler
Date Joined Wiki
November 2, 2011
Date Joined Club Penguin
September 13, 2007
Admin?
No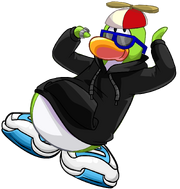 Hey, I'm Verde Sal. I am currently a Rollback on this wiki. My Club Penguin account is Verde Sal, which I have been waddling around Club Penguin with since September 2007! I also have a Club Penguin YouTube account called VerdeSalCP. You can check out all of my best igloos there. I'm an igloo maker, by the way. :P Some of my interests, besides Club Penguin, are collecting LEGOs, playing baseball, and playing video games.
My Favorites
My Favorite Outfit
My Puffles
Userboxes
Photo
| | |
| --- | --- |
| | Verde Sal has seen Ballono's userpage and doesn't like it when balloons pop! |
| | |
| --- | --- |
| | Verde Sal has seen Cadence! Dance 'til you drop! |
BEWARE! Verde Sal is a Ninja!!!! Behold their awesomeness and TREMBLE!
I SAID TREMBLE!
Screenshot Gallery
Fashion Show Entries
Other Gallery
454 Music- Cantina Band
2020 Updated Pin Tracker
Tracking...
No pin found!
Club Penguin has been discontinued.
Thank you everyone for playing and making it a great one!
For public use • In order to use, simply add {{Penguin-Pal Pin Tracker}}Customize