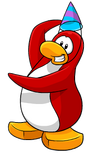 About Me
Hey there! I see you are reading about me. I have been a member of this wiki since March 30 2014, and I have been waddling around since June 7 2009. If you want to read more about me read below.
About me in real life
My name in real life is Sean. I am from and currently living in New Jersey. My birthday is October 30. I am also male. My hobbies include playing the saxophone, watching sports, playing sports, contributing to this wiki, and playing Club Penguin. I am also a fan of Philadelphia sports teams.
About me in Club Penguin
My Club Penguin username is Waluigicake. I have been waddling around since June 7 2009. I am currently a Member. My favorite mini games are Smoothie Smash, Jet Pack Adventure, and Astro Barrier. I have 285 Stamps. My first pin was the Safari Hat Pin. I enjoy contributing to this wiki and helping penguins in need on Club Penguin. My favorite parties are The Fair, the Music Jam, the Puffle Party, and Coins for Change My favorite items in Club Penguin (that I have) are the Astro Barrier T-Shirt, The 4th Anniversary Hat, the Safari Hat Pin and the 3D Glasses I often go on servers Sleet, Zipline, Blizzard, Abominable, Jack Frost, and Icicle. If you meet me on the island feel free to say hi and send me a friend request.
My favorite pages
Add links to your favorite pages on the wiki here!
Favorite page #2
Favorite page #3
Userboxes
BEWARE! Waluigicake is a Ninja!!!! Behold their awesomeness and TREMBLE!
I SAID TREMBLE!
My contributions