I started yellow I looked likes lump so why not YellowLump!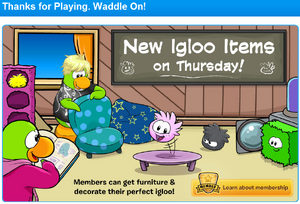 About me
I am YellowLump Epf agent ninja wielder of many knight costumes and much more! I have 11 puffles to take care of (all the colours and 2 pinks) so if we meet on club penguin it may not be for long for I will need to feed my puffles my club penguin username is also Maxs1 2 if you see me do not forget to say hi! Waddle on!
About my Penguin
Constantly changing colour normally blue ( but started yellow as the name implies) also change clothes a lot cannot talk but always happy to greet people! I also have an attitude for adventure and take things very dramatically.
My favorite pages
My contributions
Community content is available under
CC-BY-SA
unless otherwise noted.