Take a guess.
[[

|center|120px]]
This is the one reason why I h*t* CJ.
Information
Penguin's Name
Take a guess.
Favorites
Card-Jitsu (and anything to do with it), Orange Puffles, Full Dojo Stamp.
Member?
Yes
First Pin
Famous Penguins Met
Aunt Arctic, Sensei TWICE, Rockhopper, Cadence, Gary, only one member of Penguin Band
Date Joined Wiki
 ?????? 2011 and left on (Temporarily) 29 March 2012
Date Joined Club Penguin
2 August 2009
Admin?
No
Notes
I have no brother. I just got mad when I left, so I faked it. :(

Learn about him at your own risk. He's my main rival.
DO NOT PRESS THE LINK UNDER 13 OF SHADOW. YOU HAVE BEEN WARNED. Check out CP Card Makers Wiki, a wiki I made a year and a half ago, where we make custom CP Cards! Go ahead and join!
I am a Club Penguin user, as you guessed. I am mad about Card-Jitsu, it's my favorite thing on CP. I don't really care that you don't get coins, there are other things I'm good at in CP. As you may tell from my profile bar above, I am a collector of the ultimate brick. Guess its name.
Orange Puffles are also quite cool. They eat anything and everything, but I'm curious about how everything they eat would fit in the stomach of a cute fur ball?
We're all waiting patiently for CJ Shadow, but according to a tweet by Spike Hike, it will come soon. Someone asked him about Shadow, and he replied: "Snow first". That led to many penguins believing CJ Shadow is certain, also proof is in MFPC1, my avatar.
And yes, I DO have MFPC1. I already bought plenty and I have around 120 or something (counting doubles, triples, etc.).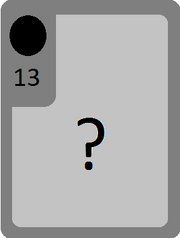 Community content is available under
CC-BY-SA
unless otherwise noted.