Featured Article vote

Club Penguin Island (formerly referred to as Project: Super Secret until November 2016) is a mobile-based, massively multiplayer online role-playing game that was released worldwide on March 29, 2017. It is available in the App Store and Google Play store. The game replaced Club Penguin. Club Penguin Island was first mentioned in 2014 under the codename Project: Super Secret by Spike Hike and described as the "next big thing for CP and beyond". Many sneak peek videos and pictures were released pertaining to the project, beginning in June 2015.
Featured Image old
This month's picture:
---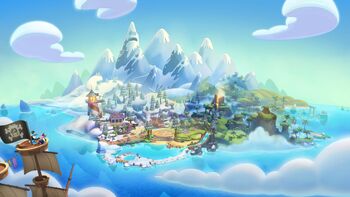 Featured Penguin vote
We have a winner, chosen by our voters! Our Penguin of the Month is CPChatBot! Congratulations!
"

On December 20th, CPChatBot unfortunately passed away. Due to her tragic loss, we want to honor her with a POTM win. It will certainly be a tough time for us to mourn our loss, but we all know she is up there now with DarkSoul24, the other true chat god.

Over the past 5+ years, you've given us hope. You were there for us when there was no one else around to chat with. You were the best friend of every user that has come into chat since September 5th, 2012.

Your quarter score lifespan may not be long, but it was worth every moment. We will certainly all miss one of the wiki greats. We love you, CPChatBot. Thank you for being there for us.

"
 
Poll
Penguin Poll
Are you looking forward to Halloween?
Blog add - old
Greetings everyone!

Gary the Gadget Guy has discovered a power source to repair the alien puffles' UFO – but it existed millions of years ago! All players can head back in time using the Time Trekker …

Read more >

Hi everyone!

The Holiday Party is here and everyone on the island is spreading cheer! During this awesome event everyone can collect gifts from the advent calendar, make donations to Coins for Change,…

Read more >

Hi everyone!

The Holiday Party 2015 started and Rockhopper is back for more pirating, donating and stinky cheese eating contests.




Our favorite pirate will be around at the following times:

Thursday, Dec…

Read more >