Opening
Good evening, Club Penguin Wiki! Today is May 30, 2020...
...and...
I'M WITH STUPID 19 IS HERE!!
This is the fourth and final part of the "Quarantine Quadrilogy" seasons, but don't worry! Speaking of four, I'm With Stupid will be celebrating its fourth anniversary in October! Nineteen seasons of this random crap. Today, after nineteen editions, we will finally discover who exactly the series title 'I'm With Stupid' refers to. In October's I'm With Stupid 20, we will of course meet new characters and then find out what happened to Armband Guy's armband in I'm With Stupid 18! But for now...
...LET'S GET RIGHT INTO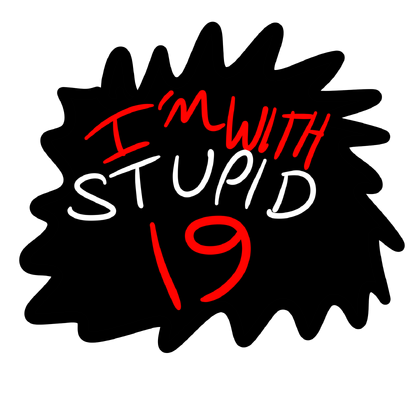 Meet the Characters
You know how we do. Top row to bottom row. Left to right. IWS19, HERE WE GO!!!
A Side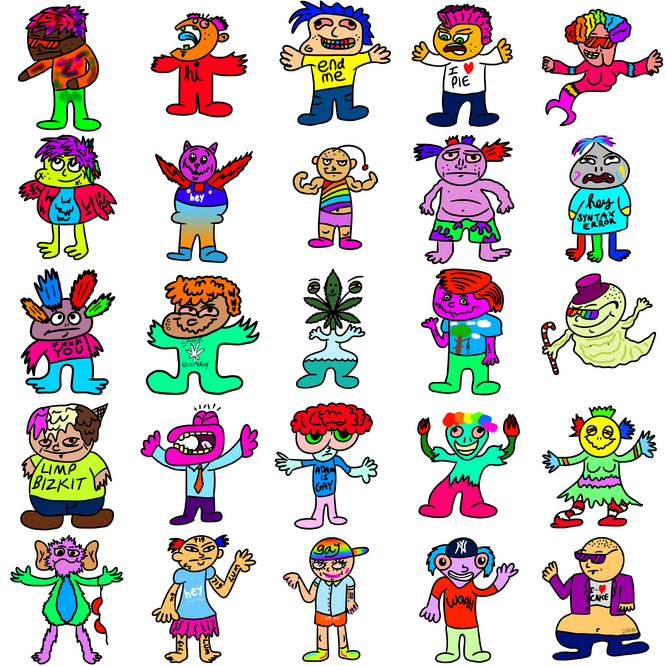 ROW ONE: Carolyn Drake, Watson Harriwats, Belgian DaKeplan, Apj's Mortal Enemy, and Rotter-Otter.
ROW TWO: Pollo Hermano, Baskin Tuscon, Stronkstonk, Patrot Car, and Foldex Shiner.
ROW THREE: Swearomonster, Snoop Loops, Weggin & Sweggin, Treedawg-3, and Meghan McCane.
ROW FOUR: Pastor-2K5, Josh Parklat, 2360 and so on, أسلم, and Innokenty.
ROW FIVE: Epic Banterous Hilarious Because Bra, Watican Watpode, Boodyjuggle, Antilofison, and 23rd Century Apj.
B Side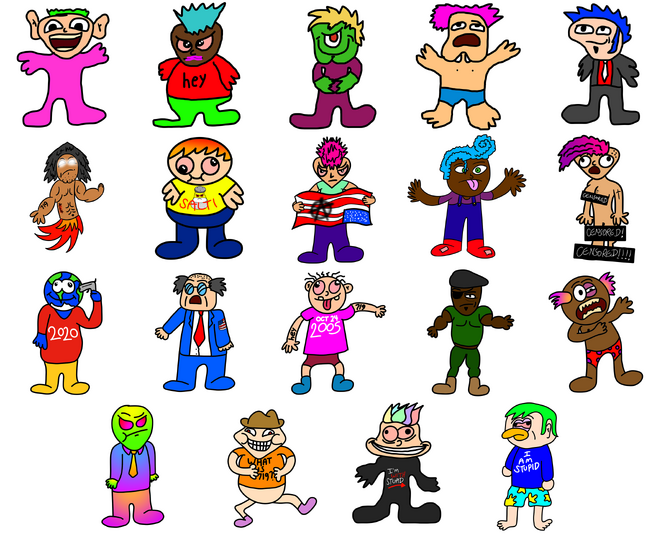 ROW ONE: Reggie Frankson, Frank Reggieson, Zachary Baylor, Boltikhan, and Suit Boi.

ROW TWO: DaPratandar, SalTI's Biggest Fan, ПΣЩΛGΣMΛП, 🍕, and ( ͡° ͜ʖ ͡°).

ROW THREE: New Era Boi, Berndo Wumbo, CP-719, Jim Halshirt, and Pam Freezely.

ROW FOUR: John Kranincki, Goodkwesdin, I'm, and @stupidIWS.

What an amazing I'm With Stupid season. Lots of new milestones as well! We created probably the gayest person ever (Boodyjuggle), we have the first character with an Arabic name (أسلم), we have the first character named as an emoji (🍕), and we created other special character names such as ПΣЩΛGΣMΛП and ( ͡° ͜ʖ ͡°). We ALSO have the first character named as an active Twitter handle (@stupidIWS)! You can visit Stupid's Twitter account to see what he's up to.

There are now ~820 characters in the I'm With Stupid universe after this revolutionary edition. Thank you for your continued support of the series. Join us in October for the four year anniversary festivities! Goodnight.
Community content is available under
CC-BY-SA
unless otherwise noted.