Future event
This article is about something that will occur in Club Penguin in the future. Things are subject to change.
This blog post contains fictional content!
Everything in this blog might not be real, so don't rely on it as a source!
The Paradise Party Party is an upcoming party in Club Penguin that will be taking place from July 25 to August 6, 2014.
Storyline
Two weeks before the party, Gary explains that he is missing his Hologram Maker 3000. Mysterious boxes with trees and sand filled inside there are popping up out of nowhere for construction. The next week, agents get a message from Rookie, that says:
Hey Elite Penguin Foo- I mean Force, I'm very excited for the Paradise that's coming up. If only I can fix this darn hologram maker!
Two days later, penguins get another message from the Director:
Agents of the EPF,
I have found evidence that Rookie is missing. A trail of warm air and sand was found when he became missing. We will find more evidence soon.
During the first week of the party, penguins have reported that they saw a machine that said "Hologram Maker 3000 Paradise Maker" that made the paradise. The EPF did not notice it and Dot commented that she would disguise as a snowman for the party.
The second week, the background of the decorations start to flash as an inverted background with strange flying monsters, while the machine has sparks out of it. In just a split second, it returns to the normal background.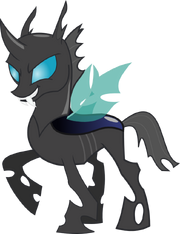 Trivia
Penguins reported to Spike Hike on a Spike Saturday that the monsters were Changelings from My Little Pony: Friendship is Magic. Spike Hike replied: "The day is gonna be perfect…"
Gallery
Sources and References
Community content is available under
CC-BY-SA
unless otherwise noted.