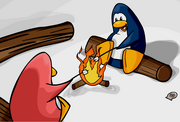 Welcome to another series of the wiki-wide famous contest, the Camp Penguins Color Contest! Some users who have been on this wiki for longer may remember the contest better. The hosts this year are..... Happy65 and Penguin-Pal. The winner will get an epic prize that will be revealed further on during the series. Entries of colours must be in by the 15th June. A Frequently Asked Questions will be shown further down on this post.
FAQ
What is CPCC?
The Camp Penguins Color Contest is a contest that has been around since 2011. The idea of CPCC is that ordinary players come up with an idea of penguin colors. We create an icon for each custom color, and after a vote, we announce which color has won.
How does CPCC work?
The traditional contest was held in the form of a vote for all colors. We might create it in knockout stages, but only if there would be enough nominations.
Rules
You mustn't use a color that Club Penguin already uses for penguins' colors.
You cannot nominate more than 2 colors.
You are not allowed to abuse multiple accounts for nominations and votes (of course). You can only nominate colors if you are logged in.
How do I submit a colour?
In order to submit a color, add a comment that includes.
For the color value, please don't the colors name, but use a color value. The value can be either HEX, RGB, HSL or a HSV value. If you're not using a HEX value, please mention what color model you're using.
You can use this site for finding HEX values or wikipedia pages that contain color values.
For example, the HEX value for Old Blue is 2E47AA.
Goodbye
That's all for now, be sure to enter your colour as quickly as you can! Good luck!

--Happy65 and Penguin-Pal 09:43, June 1, 2013 (UTC)
Community content is available under
CC-BY-SA
unless otherwise noted.