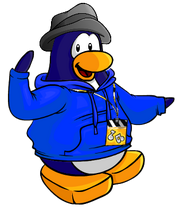 Hello, it's me, Happy65. I would like to call this blog the Diamond Retirement. This will be my final blog on this wiki.
After over 2 years of great fun editing on this wiki, I have decided to retire as you will see further on in this long blog post. In 2010, it was my first year. We had some wonderful kind admins like LordMaster96, Seahorseruler and many other admins. This team of admins then moved to what many users here call The New Wiki nowadays.
In 2011, I started editing more often, with edit races with users like Bman2007Jazz and The Plush. I made lots of edits and had lots of fun with the users in the year.
In 2012, I had missed a couple of months due to injury before joining in February 2012 again, I then made about 5,000 more edits to add to my all-time Club Penguin Wiki total.
I would now like to list a good number of friends I have had over these excelent and fun years and I would now like to list them:
(If you are not on this list, I am still your friend, I must have just forgotten you since there is so many users)
LordMaster96, Seahorseruler, ShrimpPin, Awesome335, Bman2007Jazz, The Plush, Sdgsgfs, Penguin-Pal, Dps04, Roger6881, The Lord of the Rings, Rhysw2002, Director Wasp125, Psaro the Penguinslayer, Ravenchamp and many other people have been great friends over the years.
I, Happy65, hereby retire from the Club Penguin Wiki

The reason of quitting is that I want to move on and my computer keeps braking down :|
I may be found on other wikis that Penguin-Pal will be able to tell you
Happy65 Contact Me - Blogs. 2010-2012
Community content is available under
CC-BY-SA
unless otherwise noted.