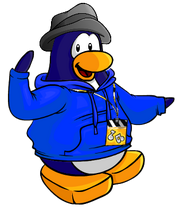 Hi, I'm Happy65, chief editor of Happy65 Industries.
V-Rex is not the true founder of the Club Penguin Wiki. He is the co-founder, and basically the adopter. Check his userpage. Many users on my research team wanted me to make this blog, so here we go. Da-da.
Look at the very first revision of the Club Penguin article, who was it by? "Rsnail". He was a vandal, many users editing after that had logs lost. I think history went back MUCH FURTHER than March 2006.
Now, I think Sandstein is a possible candidate, but I also think the CP article was NOT the first on the wiki.
Community content is available under
CC-BY-SA
unless otherwise noted.