593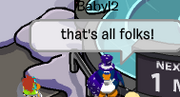 "That's all folks!" screamed the magician. Whowypengie's magic company was putting on a magic show at the Amazement Park and it was just about over. Whowy and a few other assistants were helping with some of the tricks, like a tissue paper trick and a soda bottle trick.


A big audience that was seated in front of the magician started clapping. "Wow, your show is so good Whowy!" remarked Joeypengie. "Thanks!!" said Whowy, walking over to him. "I really liked when you pulled that puffle out of the hat, and then you pulled like ten more out! How do you do that?" Joey asked. "Well, I don't think my boss would like it if I told you. I could get fired," Whowy said. "Ok then," he replied.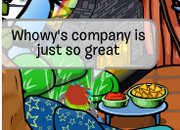 The next day, Joey had just finished eating breakfast and was in his living room watching Good Morning CP. "Whowy's company is just so great," he thought out loud. "I wish I had a job like him." "THE AMAZEMENT PARK ROLLER COASTER, THE SPACE SQUID, IS SEEKING A CO-ENGINEER!"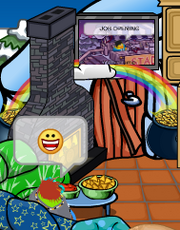 the guy on TV said. This brought Joey's attention to the TV. "THE FORMER CO-ENGINEER WAS SERIOUSLY INJURED YESTERDAY WHEN ONE OF THE CARTS RAN OVER HIM, AND HE HAD TO GO TO THE HOSPITAL.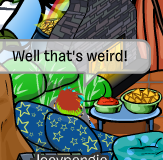 GALAXY PARK WORKERS ARE CONCERNED HE MIGHT NOT MAKE IT! ALL DAY, THEY'VE BEEN LOOKING FOR A NEW WORKER AND CAN'T SEEM TO FIND ONE! SO WE HAVE A JOB OPENING, JUST COME TO GALAXY PARK TO SIGN UP!" Joey smiled, and said "Well that's weird!" He was going to get that job.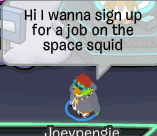 Immediately, he rushed outside and to the dock, through the gates of the Amazement Park, and into Galaxy Park. "Hi!" he said to the engineer, walking up to the Space Squid Entrance. "I would like to sign up for the job," he said.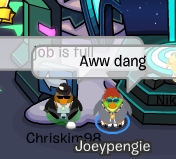 "Sorry, the job is full," said the engineer. "Oh dang," said Joey. "Who was it taken by?" "Some crazy guy that doesn't have any experience." "Umm, why in the name of Rockhopper's Beard would you hire someone with no experience?" Joey asked.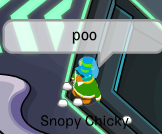 The engineer turned around after a big bang. "What was that?" asked the engineer, rushing into the ride. "MARTY!" he screamed. "YOUR FIRED! LEAVE NOW!" "Poo," said the guy that was apparently called
Marty
. "I guess you can have the job!" the engineer said to Joey.
To be continued
See more of Whowy's Ride!
Part 1
Part 2
Part 3
Epilogue
Community content is available under
CC-BY-SA
unless otherwise noted.