Sorry if i have no time for this 😂😂😂 order in the comments (no buy limit)
Furniture
A banana - "Not true furniture, just a plastic banana."
Doormat - "Custom doormats makes yourself happy."
Luxo TV - "There you go. An Huge Television to watch your favourite shows.
Crab Beanbag - "CLICK CLICK CLICK"
Blitz Poster - "Now you can use BLITZ! at home!"
Toys
Club Penguin Isl@nd Minifigures (I @lso like using @s, t00.)
The entire Super Mario 2014 Happy Meal toy collection (LUCKY BOI!)
Peanut Plush BeanBag (not the one from PB&J Otter)
BFDI Plushes (Leafy, Firey, Flower and Spongy)
Animal Crossing Bell Danglers
Yummy World Blind Bag (oof)
Every single Shopkins series
Eletronics
Wii Sports (this is a meme now)
Wii U
Tomodachi Life for Nintendo 3ds
Nature Cat DVD - Onward + Pondward (i am starting to liek this show)
A Samsung DVD Player (Colors Black, Purple, Artic White and Lavander)
BFDI Announcer Speaker
Windows 10
A Dell Computer (Colors White and Black)
Before commenting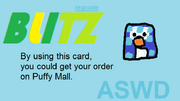 Use this BLITZ card and download it to realize your order.
Community content is available under
CC-BY-SA
unless otherwise noted.