Hello everyone,
Have you ever wondered how to make custom penguins like me? Today/Tonight on this tutorial, I'll show you the basics on Adobe Flash.
Step 1: Opening Flash and Club Penguin SWF Files.
First, you'll have to open flash. Make sure to use "ActionScript 3.0" (CS5/CS6, I don't know if its for the older versions. You'll get this once you opened Adobe Flash.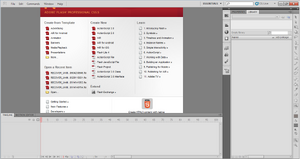 Step 2: The Begining
Next, you'll have to open the file. Get a file from Swf Modify or get a SWF File from the CP Files. (REMINDER: SOME OLD Penguin Styles, Furniture & Igloo Catalogs, Club Penguin Times, Treasure Books, or Snow and Sports, are protected, to unprotect, download UnlockSWF OR you could export a swf file into a Movie Clip/Shape on SWF Modify if you don't want to download UnlockSWF. To Open SWF Files, click on "import" (don't confuse with "export" :P) As seen on this image here.

Oh and this is what it looks like when you import it from SWF Modify.

Step 3: Editing SWF Files
What to do next is to edit the SWF file a bit, like remove the hat, or glasses, or scarf, or a wig, something like that. You have to either remove it with your computer/laptop mouse OR use the eraser tool. Like a example of removing the santa hat.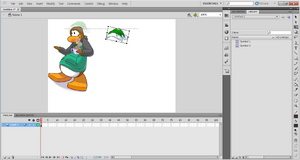 Step 4: Recoloring
Yeah, its probally the same as Step 3

Well, recoloring is the most important thing. First, you must right click on the penguin and it should result as this: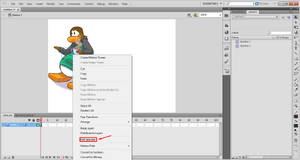 Then click on "Edit Selected" or double click it. (I mostly double click it) To recolor, use the Paint Bucket tool. It should result as this: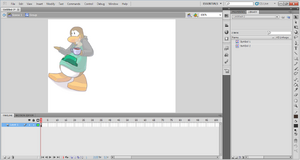 Here's what I recolored it: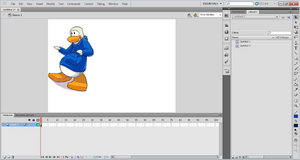 I made it Arctic White because its the newest color :P I made it the Blue Hoodie because random.
Step 5: Adding the items
Adding the items on the penguin is what makes your custom penguin better. Either get one from SWF Modify or edit the penguin's item in Adobe Flash. If you want to flip the items, its like Paint.NET for flipping the items. Here's the 2 items I picked: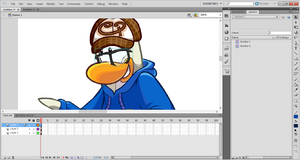 Step 6: Saving the image and import to PNG
To save the image, use "export image"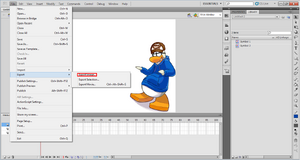 About importing it to PNG,
I use Krust SWF Renderer to import swf files into PNG. Select the SWF File/custom and select the folder to import to PNG. Here's what it looks like: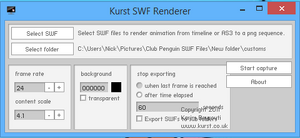 Step 7: Cropping the image
Last, You'll have to crop the image in either these programs: Paint.NET (???), GIMP (Autocrop), or Photoshop (Trim). Here's what I cropped mine in:

---
We are done! If any problems with Flash, tell me, this might work for older versions, It will work for CS6. To download Flash, download here: [1]
Click on "Flash Professional CS6" and your download should be done by 2 hours depending on your internet.
I hope this helps!
Cya!
Mariocart25

02:56, June 6, 2014 (UTC)
Community content is available under
CC-BY-SA
unless otherwise noted.