Hello penguins!
As many of you heard, Club Penguin made a partnership with the British company FACTORY. As a result, FACTORY was able to make a stop motion special for Club Penguin.
But that wasn't all. Apparently, another special was also made by FACTORY. Titled Club Penguin: Monster Beach Party, the special is set on Club Penguin Island after the events of the Merry Walrus Party.
Jangrah decides to throw the perfect beach party for everyone on the island to enjoy, but things go wrong when they accidentally release the Megalodon from its prehistoric iceberg, and the giant shark causes havoc around CP Island.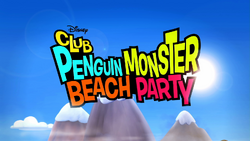 Sounds interesting, doesn't it?
Well, the special already aired in the United Kingdom at the following time without any warning from the Club Penguin Team:
August 10, 2015
But Disney isn't Disney if they don't re-broadcast anything, right? So the special will broadcast again at the following UK times:
August 15, 2015
7:00 AM on Disney XD
8:55 AM on Disney Junior
August 16, 2015
4:30 PM on Disney XD
5:35 PM on Disney Junior
If you live in the UK, don't miss the chance to watch the special, and don't forget to comment with your opinion on it.
Until next time... Waddle On!
Community content is available under
CC-BY-SA
unless otherwise noted.