NOTE: i'm sorry to anyone who wanted to host this kind of contest this year, i did wait a little bit incase someone else was gonna host it, turned out i couldn't find anyone hosting this year, so yea, again sorry
hi everyone, i know i haven't been on much this year, but i thought i'd try and hang around more this christmas.
remember the raffle i hosted last year? well sadly i have no codes this time around but instead, i'll be hosting this year's christmas igloo contest. (yay)

so here's some rules
the theme should be christmas or winter as this is a holiday contest
DO NOT STEAL ANYONE'S IGLOO, be creative with your own or ASK the person's igloo before using
i know non-members can't decorate their igloos so if any member is willing to help by entering their igloo for them do so please (the holidays is about giving after all :D)
please be nice to others
have fun!

here's a example of a igloo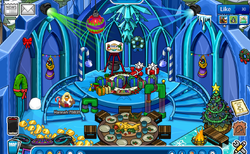 submissions start now until 18th then depending on how many enter there will be a certain amount of rounds, everyone else can vote by poll in each round, until 2 or 3 igloos remain in the final round they will be a poll, but at the end i will add certain amounts of votes to the final scores in secret
Prizes
for the prize i'm not 100% sure yet
the winner will either get a 1 month or a 6 month membership (depending on how much money i have) plus a userbox and a trophy
whilst the runner ups will get a user box and a medal
everyone that entered will get a user box
like this: Template:CPXmasIggyContest2014Entered
and finally anyone who helped a non-member will get a ribbon and a userbox
the main thing is that everyone has fun Good Luck everyone :)
(i hope i'm not too late to do this)
Submissions
552
Community content is available under
CC-BY-SA
unless otherwise noted.